By Admin – Steroidal.com
Australia has seen a sharp increase in crimes attributed to anabolic steroid usage and distribution.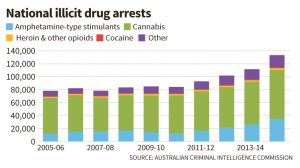 According to figures released by The Australian Criminal Intelligence Commission (ACIC), there has been a steep increase in the amount of performance-enhancing drugs (PEDs) seized in Australia.
The number of illicit drug seizures, including: heroin, cocaine, amphetamines, cannabis and steroids have increased 13.7% to 105,862 in 2014-2015.
The total number of arrests attributed to drug busts was also up 19.5% to 133,926. Although the total weight of drugs seized was down to 23.5 tonnes.
Interestingly, anabolic steroids saw the most rapid increase in arrests and seizures. In 2014 police confiscated 17kg of steroids, but this year that exploded into officers seizing 320kg of anabolic injectable and oral steroids.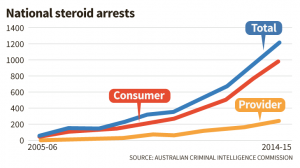 Steroid seizures were up 48%, whilst arrests increased 29.3% year on year in Australia. Detections in confiscating steroid by border officials was also up 7.2%. Importation of steroids through the mail was the most used method, up 87% from 2014-2015.
Police report their biggest steroid bust was finding 120kg of raw testosterone powder under a suspect's mattress. This was imported from China, where much of the raw hormone steroid powder is manufactured. Underground labs (UGLs) then turn this powder in steroid pills and injectable products to be used by steroid users and bodybuilders.
These stats are not extraordinary, many countries including the United States and United Kingdom have witnessed steroid usage explode among teens, young men and bodybuilders.
Source: http://www.smh.com.au/national/buff-and-busted-spike-in-arrests-and-seizures-for-illegal-steroids-20160803-gqjy1f.html