By Admin – Steroidal.com
A man has been arrested in Florida for distributing anabolic steroids online.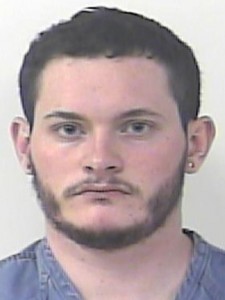 Sean Patrick Nobel, 24, has been busted after officers found a number of oral steroids and injectable anabolic products at his home in St. Lucie County, Florida.
After Nobel posted his advertisement offering various anabolic steroids on social media and Reddit, his days were numbered.
St. Lucie County Sheriff's investigators then posed as an interested 'customer', but were in reality a police undercover agent operating a sting operation. The agent then agreed to purchase $230 of the illegal controlled substances Nobel had advertised on September 27.
The brand of underground lab (UGL) the officers purchased was both Freedom Labs and Dark Matter Labs. Steroidal.com understand both these labs are small and not nationally and internationally recognized. These UGLs are often put together quickly, using unsanitary environments and are down incorrectly.
The sting operation then led them to Nobel and his residence. Law enforcement agents then discovered an amount of steroids in his closet. Not the largest of steroid busts by national standards, but court records state over 50 vials of injectable steroids were seized.
That said, Sheriff's Lt. Brian Hester disagreed and stated the haul was significant: "Probably one of the larger steroid cases that I've ever seen in St. Lucie County with the amount of steroids he had in his home," Hester said. "His closet was basically a pharmacy."
Hester went on to speculate that the steroids were bought on the "dark web", an underground marketplace for illegal drugs, prostitutes, weapons and hacking tools.
Not finished there, Hester then incorrectly speculated that steroids cause cancer, cause permanent infertility in males and cause the liver to completely shutdown. The latter might be true after years of steroid abuse and extreme doses, but cancers and preventing the steroid user to have children is not correct.
Nobel has been released on a $35,000 bond and awaits his next hearing.
Source: http://www.tcpalm.com/story/news/crime/st-lucie-county/2016/11/02/sheriffs-detectives-make-big-steroid-bust-st-lucie-county/93188626/