By Anthoney J. Andersen – Steroidal.com
When it comes to living healthy, there are countless things you can do to make sure your body is properly nourished.
One of the most important ways to keep your body enriched with vitamins and nutrients is by eating a wide variety of foods containing antioxidants.
According to WebMD, antioxidants can be found as vitamins, minerals or phytochemicals (special plant compounds).
Antioxidants are responsible for the repair of cells that are damaged by free radicals that can scramble your immune system.
If you're considering taking the easy route by purchasing an "antioxidant-rich" supplement, researchers advise you to save your money.  According to the Centers for Disease Control and Prevention (CDC), each fruit and vegetable contains its own unique combination of antioxidants.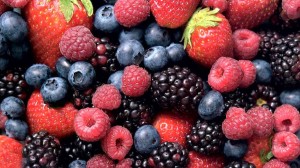 BERRIES
This luscious type of produce can refer to a variety of antioxidant-rich foods.  The berries you want to focus on the most are strawberries, blueberries and blackberries.
Researchers at the University of Oslo discovered that one cup of blackberries contains the most antioxidants out of all the berries tested.  One cup full a day can provide the body with half your daily-recommended intake of vitamin C.
These three pieces of fruit are surging with antioxidants called anthocyanins – a type of phytochemical.  The antioxidants obtained from eating these berries are vitamin C, anthocyanin and quercetin – a type of pigment that's responsible for giving many fruits and vegetable their colour.
WAYS TO ENJOY BERRIES
Microwave blueberries, lemon and sugar for 45 seconds, then serve over angel food cake.
Substitute berries in place of raisins in your favourite cookie or muffin recipe.
Add berries to any fruit smoothie, making for a flavourful and thirst quenching delight for your taste buds.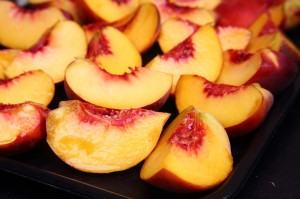 PEACHES
The main antioxidant found in this piece of fruit is lutein, which helps keep your heart, skin and eyes healthy.  Along with lutein, peaches also contain high levels of vitamin A, vitamin C and zeaxanthin – another potent antioxidant responsible for healthy vision.
WAYS TO ENJOY PEACHES 
Add some flavour to your summer drink by tossing in fresh or frozen peaches into the bottom of your tea or lemonade, then pour over ice.
For a delicious snack or side dish, warm some peach slices by either broiling, sautéing or baking them, then add a touch of cinnamon on top.
Warm peach slices on the grill and add them to your kabob along with other fruits and vegetables.
WALNUTS
Just an ounce of walnuts – or 15 to 20 halves – is stuffed with antioxidants.  Keep in mind, however, walnuts can be considered somewhat of a double-edged sword.
Even though they are rich in antioxidants and are cholesterol-free, they can also be high in calories.  Be mindful of your daily walnut intake.
WAYS TO ENJOY WALNUTS 
Mix crushed walnuts into your morning yogurt for more protein and antioxidants.
Add walnuts to salads or sautéed vegetables.
Puree walnuts, cooked lentils and your favourite herbs and spices in a food processor.  Then add enough olive oil and flax seed to achieve a dip-like consistency.
TOMATOES
Tomatoes are overflowing with the antioxidant lycopene, which is more potent in cooked tomatoes than in raw.  To get the most lycopene out of your fresh tomatoes, turn them into tomato sauce or jam.
WAYS TO ENJOY TOMATOES 
For breakfast, slice an English muffin in half and toast it.  Spread a thin layer of cream cheese on top and add thinly sliced tomatoes of your choice.
Stuff a large tomato with tuna, shrimp or chicken salad.  Use the pulp as part of the salad.
Slice fresh tomatoes and top your favourite pizza.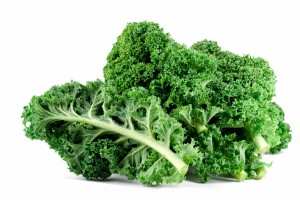 KALE
According to Healthline, one cup (chopped) of this powerhouse veggie contains 206 percent of your daily-recommended dose of vitamin A and 134 percent of your daily-recommended dose of vitamin C.
WAYS TO ENJOY KALE 
Add chopped kale to your favourite pasta within five minutes of it being done.  Season with a small amount of sesame oil, sesame seeds and a pinch of salt.
Steam kale and season with lemon juice, olive oil, salt and pepper.
Add chopped kale to your favourite stir-fry.
THE WRAP UP
In a country where one-third of U.S. adults are obese, it's apparent that consuming the proper nutrients is a difficult task.
Keep in mind that there is an assortment of recipes out there that can make eating antioxidant rich fruits and vegetables a fun and delicious treat for both your taste buds and your immune system.
Livestrong.