By Admin – Steroidal.com
Federal officers have arrested 11 men, some of them power lifters and bodybuilders, when dismantling an anabolic steroid ring in Dallas, Texas.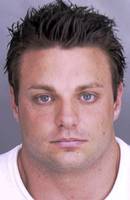 Jonathan Ryan Stubbs, 38, has been implicated as the ringleader, behind the underground lab (UGL) grade anabolic steroids manufacturing and distribution operation. Stubbs already has a criminal record, which involves drug dealing and assault, and has been investigated by officers in the past for possession of anabolic steroids with intent to distribute.
Last year, the U.S. attorney's office filed a forfeiture suit to keep a 2008 Chevrolet Corvette and a 2009 Cadillac Escalade that federal agents seized from Stubbs. It was alleged that the vehicles were bought illegally with drug money.
In 2012, agents from the Drug Enforcement Agency (DEA) investigating Stubbs, watched as he took delivery of lab equipment used to manufacturer anabolic steroids, and after search warrants were executed found 2.6kg of steroid hormone powder in Stubb's Escalade.
In the recent Texas steroid bust, the nine-count indictment against the men include conspiracy to distribute anabolic steroids, Gamma hydroxybutyrate (GHB), which is used to enhance Human Growth Hormone (HGH) levels, but is now a fairly out-dated compound used by bodybuilders, and is used mainly recreationally. Other drugs and charges included; marijuana, heroin and cocaine, and possessing a firearm of a drug trafficking crime.
Police have said that they found 55 vials of liquid steroids and around 1,000 oral steroid tablets. In pictures we've obtained, it looks like Stanabol (Winstrol) and Anavar are visible.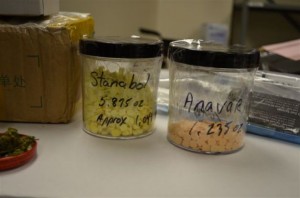 Another man named is Bryan Higginbotham, a former bodybuilder and trainer. Higginbotham has pleaded guilty to related marijuana charge and has reached a plea deal on the steroids distribution charges.
Todd Shapiro, Higginbotham's attorney, went on to say that many bodybuilders have similar interests and know where to obtain illegal anabolic steroids.
"The bodybuilding community is not really enormous. You get to know the people you work out with and train with. I think it's a pretty tight community."
Many of the court documents remain sealed; so more details will follow as the case progresses.
Texas isn't new to anabolic steroid distribution rings and has recently found itself in the news for the wrong reasons.
Most recently, steroid use became an issue for the Arlington Police Department after one officer who used the drug was accused of selling it to other officers in his department. In February, Thomas Kantzos was sentenced one-year and one day in prison.
Kantzos, a 17-year veteran of the department, was accused of using his police computer to look up names and licence plates related to his relationship with his steroid supplier. Federal officers also accused Kantzos of buying anabolic steroids and HGH for himself and his colleagues.
Sadly, another officer, David Vo, 35, killed himself in connection to the case following his arrest. A third officer, Craig Hermans, 34, resigned in August while on administrative leave after authorities said he was linked to the investigation.
Source:
http://www.dallasnews.com/news/metro/20140212-ex-arlington-officer-gets-year-in-prison-in-steroids-case.ece