According to the IOC and the Australian Olympic team, two time Olympian Thomas Fraser Holmes has been banned for two years of competition for missing three performance-enhancing drug tests in the past six months.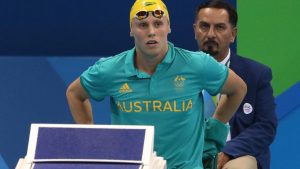 The sport of swimming is one of the most competitive in the world, with athletes looking for every edge and advantage possible to break records and reach the Olympic podium. US athlete Michael Phelps isn't looking like he is going to return again this upcoming Summer Olympics, and that opens up the field to get a crack at gold – opportunities that didn't exist when Michael was competing as he took home golden almost every single event.
A lawyer for Fraser Holmes reports that he is going to contest and appeal the van that has been imposed by the FINA and the IOC. The lawyer suggests that Fraser Holmes has a clean record without any positive tests for performance-enhancing drugs, and that his suspension simply because he missed multiple tests is not valid.
Three strikes and you're out
Understanding that he had already missed two other performance-enhancing drug tests, Fraser Holmes reported to his third drug test – his second "makeup test" – 10 minutes after he was supposed to arrive, and the Australian Sports Anti-Doping Agency said that this constituted missing out on the test completely.
The test conductor that was to meet with Fraser Holmes did report him as arriving late, but because of the strict rules and regulations regarding this kind of testing – and even though the swimmer himself said that he was simply running late because of having dinner at his mother's home for her birthday – the test wasn't able to be administered.
Being the third consecutive miss, Fraser Holmes "struck out" with the Olympic authorities and it's likely that this is going to end up being the most costly 10 minutes of this Olympic athlete's life.
Everyone knows the rules
While the attorney for this Olympic swimmer is going to prepare an argument that goes toe to toe against the Australian anti-doping commission and the IOC, the truth of the matter is all Olympic athletes – including this swimmer – understand the "rules of the road" when it comes to testing for performance-enhancing drugs.
All Australian swimmers are required to provide an hour-long timeslot over a block of time three months long where they are able to be tested by FINA, the IOC, and the Australian Sports Anti-Doping Authority. Missing a single test counts as a single strike, and if you miss three tests in a 12 month block of time a two-year ban is imposed.
Fraser Holmes was aware of this testing schedule, had made the hour block available to the testing agencies on three different occasions, but wasn't able to fulfill his obligations and never move forward with a successful test. Whether or not this was because of doping going on behind the scenes or simply because the swimmer wasn't able to meet his obligations is unknown, and we will likely never know – simply because none of the tests were ever administered.
At the same time, this banned will have no impact on the swimming team for Australia that is going to compete at the World Championship Games. The swimmer had already opted out of these trials to help better position him for another Olympic run (the third of his life, but because of these missed tests it looks like he is going to be left on the sidelines when the Summer Olympics roll around in 2020.
The appeals process is already set up to conclude by the end of the fall, and Fraser Holmes continues to train as though he will be allowed to compete again in the Olympics.