By Admin – Steroidal.com
Chris Froome, the three-time Tour de France Champion, has recently refused to stand up for his friend, Bradley Wiggins', use of cortico-steriods and salbutamol.
Despite the fact that Wiggins followed all necessary regulations, Froome is apparently not satisfied. Wiggins did, in fact, obtain a Therapeutic Use Exemption (TUE) to legitimately use the performance-enhancing drugs (PEDs).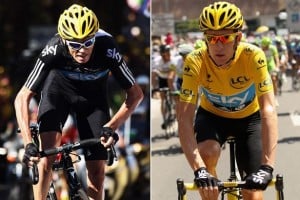 Froome and Wiggins rode alongside one another on Team Sky back in 2012 when the victory was earned by Wiggins. Still, Froome will not defend the team or his former teammate against the recent controversy regarding Wiggins use of TUEs.
Froome has been busy on Twitter, however, releasing a statement recently that was apparently very critical of Wiggins' decision to use PEDs. The Tween even suggested that Froome suspected some intentional abuse of the TUE guidelines.
Froome later clarified that he doesn't believe that simply following the rules is enough. In a recent interview he went on to say, "I take my position in sports very seriously, and I know I have to not only abide by the rules, but also go above and beyond that to set a good example morally and ethically."
At this point, Froome is pushing for tougher regulations of the World Anti-Doping Agency's rules for UCI – a system with problems he believes need to be addressed as soon as possible. Froome stated, "I have never had a 'win at all costs' approach," although Wiggins has never been directly accused of cheating.
"This is something athletes need to take responsibility for themselves," Froome added. Arbitrary and unwritten rules of "fair play," in Froome's opinion, should be followed at all times until more solid protocols are in place. In his point-of-view, Froome thinks Wiggins should have gone beyond the rules to bear the burden of being a respectable athlete.
In a seemingly self-righteous gesture, Froome used himself as an example of what a "respectable athlete" truly is. By stating that he consistently avoids bending the rules and that he never tries to win at all costs, Froome asserted that athletes who do those are not engaging in fair play. While his opinions and statements have merits, there are very few.
Meanwhile, Wiggins' confidential medical records were publicly posted last month by the Fancy Bears Hack Team. Now under heavy criticism that some say is unjust, Wiggins' legal use of long-lasting injectable corticosteroid triamcinolone is without question within the parameters of the TUEs already strict regulations.
Wiggins' injected the same therapeutic, performance-enhancing corticosteroid right before he competed in the 2011 and 2012 Tour de France and once before he raced in the 2013 Giro d'Italia. Despite the fact that Wiggins ended up winning the 2012 Tour de France, all of the WADA rules were followed and he obtained it all using a legitimate TUE.
The controversy is now moving away from Wiggins' actions and turning towards Froome's comments and concerns regarding people who do or don't follow the rules. Many people are wondering why the concentration is not instead focused on the lack of transparency and fairness within the WADA TUE system.
Source: http://www.telegraph.co.uk/cycling/2016/09/25/sir-bradley-wiggins-tue-furore-team-sky-come-under-pressure-to-e/