Women's UFC fighter has been granted an exception after failing a routine drugs test.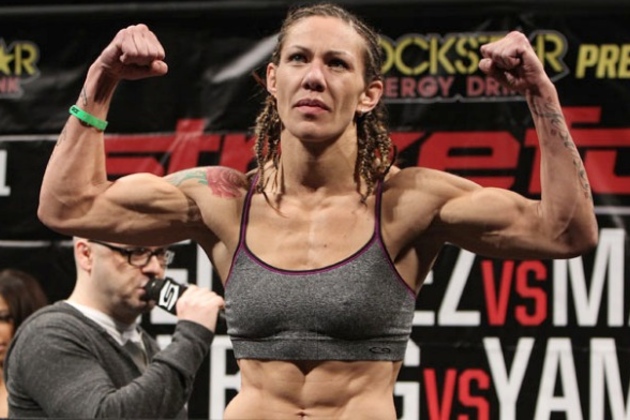 When Cyborg failed a drugs test, everyone raised their eyes like she had been using performance-enhancing drugs (PEDs) or anabolic steroids. Many thought another UFC star was going to be added to the ever-increasing list of cheats – but this wasn't the case.
Justino had failed a drugs test for Spironolactone (Aldactone). This is a diuretic drug bodybuilder's use in the final days or hours before they're stage ready and posing. The drug manipulates potassium and salt intake, causing loss of water, or if used too heavily, dehydration. Used wrongly, it can be a very dangerous drug. It's also used as a steroidal masking agent.
A UFC fighter would use a diuretic to make weight before fighting, offering them a synthetic advantage over dietary and cardio protocols. This is why the United States Anti-Doping Agency (USADA) bans it.
However, Justin has had a retrospective therapeutic use exception (TUE) granted due to a chronic medical condition. Spironolactone is listed as an appropriate standard of care. USADA went further and agreed that Justin had exhausted all non-prohibited alternatives and agreed that Aldactone could be used to return her to full health and not enhance her performance.
Justino's anti-doping violation caused an immediate suspension, but that has since been lifted due to the TUE coming into effect. USADA further states that Justino must reapply for the TUE after, or before, it expires to comply with USADA anti-doping guidelines.
Justino complied with all USADA interviews after the positive drugs test and so did her doctor, indicating she has an endocrine disorder where its usage is warranted. The disorder was hypertension, ovarian cysts and the large loss of potassium following her win over Lina Lansberg late last year. During the post fight press conference, Justino complained of carrying excess water retention and needed medical drugs to help mitigate its effects. Being bloated during an MMA fight would certainly lower cardiovascular condition.
Justino said in a statement: "I am extremely happy. I look forward to returning to the octagon as soon as possible and proving that I am still the best pound-for-pound fighter in the world."
The feared Brizilian and American fighter now looks to at a potential match with the UFC first 145-pound female champion Germaine de Randamie.
Dana White, UFC president went on to say: "It's a great day," White said. "The fight everyone wants to see now is Germaine and Cyborg, that'll be a great thing."
Source: http://www.latimes.com/sports/boxing/la-sp-sn-ufc-cris-cyborg-justino-cleared-de-randamie-rousey-dana-white-20170217-story.html