By Admin – Steroidal.com
Federal agents have arrested 22 people linked to two steroid distribution rings in Austin, Texas after a lengthy undercover investigation named – "Operation Blue Juice."
The steroid ring is alleged to have operated from two areas in Austin, Texas, but specifically Leander and Round Rock.
Officers have arrested the two suspected ringleaders – Timothy John Bruner, a 54-year-old from Leander, and Ryan Robert Rowland, 23, of Round Rock.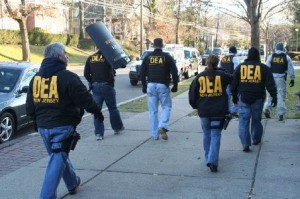 Along with Bruner and Rowland, a number of others were arrested and are charged with the same offences. According to a U.S. Department of Justice, the four other men facing the federal charge of conspiracy to possess with intent to distribute a controlled substance (anabolic steroids), are all from Austin: Ronald Marion Butsch, 42; Dan Lee, 47; Timothy John Moore, 49; and Don Glen Zachary, 58.
Bruner and Rowland are alleged to have been the two in charge of the anabolic steroids distribution and trafficking ring, and are alleged to have conspired to distribute up to 1,000 dosage units of oral steroids and more than 200x 10ml vials of illegal injectable steroids.
The investigation into the two steroid rings started 8-months ago in January 2014 and was conducted by the Drug Enforcement Agency (DEA), Cedar Park Police Department and the Texas Department of Public Safety.
After intelligence led to Bruner and Rowland being suspected of selling anabolic steroids, investigators worked to put together a sting operation. Local and federal undercover law enforcement officers bought steroids from Bruner and Rowland multiple times, confirming their suspicions.
Law enforcement agents saw Bruner selling anabolic steroids to Moore, outside Gold's Gym in Austin on May 10th. Rowland is also accused of receiving steroids on July 10th at a Chick-fil-A parking lot. Rowland is also accused of delivering steroids on two other occasions; on July 17 at the parking lot of Barton Creek Square mall; and on July 30 at the parking lot of The Main Event in Austin.
Officers also tapped the mobile phones of Bruner and Rowland and intercepted incriminating text messages.
Officers seized a "large quantity" of anabolic steroids including; Testosterone Cypionate, Sustanon 250, Trenbolone and the oral steroids – Anadrol, Dianabol, Anavar and Winstrol. Also discovered was $300,000 in cash and other assets linked to the criminal network.
The resident agent in charge of the federal Drug Enforcement Agency office in Austin, Greg Thrash, went on to explain steroid use by bodybuilders, recreational users and athletes is a growing problem.
"The steroid culture is extremely pervasive in Austin."
Bruner, Rowland, Butsch, Lee, Moore and Zachary all face a possible 20 years in prison and $250,000 fine.
A further 16 face state charges of conspiracy to possess with intent to distribute anabolic steroids.
Source:
Osborn, C. (Sept 4, 2014). Officials: 22 arrested in federal bust of Austin-area steroid rings. Retrieved from http://www.statesman.com/news/news/local/officials-22-arrested-in-federal-bust-of-austin-ar/nhGNw/