Kaliese Spencer, the winner of the Commonwealth Games 400 m hurdle competition in 2014, has finally been cleared of an anti-doping rule violation that occurred in April 2016.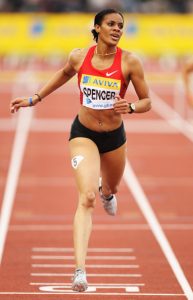 The Jamaican runner was charged with leveraging performance enhancing drugs to increase her speed, athletic ability, and overall endurance after authorities believed her to be evasive when it came time to take a performance-enhancing drug test. The original charges carried a possible ban of four years from competition (which would have kept her from the Summer Olympics in 2020), but now that things have been cleared up it appears as if she is going to be able to compete at these games for Jamaica the way that she had hoped and anticipated being able to.
An imperfect anti-doping protocol
While everyone involved in the international competition of athletes agrees that more and more stringent anti-doping testing protocols are necessary to make sure that the playing field is kept as level and as even as possible, many agree that the currently existing anti-doping testing options are nowhere near as safe, as secure, or as perfect as many would like them to be. This is obviously the case with Kaliese Spencer.
In April 2016, while training for the Olympics, Kaliese Spencer was approached by representatives of the Jamaican anti-doping agency and the WADA to take a "surprise" anti-doping test without any prior notice whatsoever.
She refused to take the test at that particular point in time – and went on to testify that she had literally just finished up per training protocol for that day – on the grounds that she was completely surprised by the test, that she wasn't given any advanced notice whatsoever, and that the testing agents were not in compliance of the rules and regulations for testing as outlined by WADA and the Jamaican Anti-Doping Commission.
Because she immediately refused to take the test in the first place she was given a probationary ban from competition. This probationary ban had a chance to really derail the career of Spencer, as she was anticipating participating in the Jamaican National Senior Championship that will be used to select the Jamaican national team for the upcoming World Championships in London.
Immediately filing for an appeal, American lawyers were selected to represent Spencer at trial. Working hand-in-hand to expedite the process as much as possible with W ADA and the Jamaican Anti-Doping Commission, the appeals process was put on a bit of a fast track – and thankfully so!
The lawyers and representatives for Spencer clearly showed that the individuals that arrived at the training base of Spencer did so with absolutely zero advanced notification whatsoever which was in clear violation of the international protocols agreed to by Jamaica and established by the WADA itself.
Both agencies immediately recognized that they were in the wrong, agreed that the probationary and provisional suspension should never have been imposed in the first place because there was no evidence that anything wrong had occurred in the first place, and rather than provide her with a "findings insufficient of a verdict" charge they completely cleared and vindicated her name by declaring her innocent of all charges.
Spencer had open civil litigation going against both of these organization on the grounds that they had kept her from potentially winning competitions that she had already entered into, and both organizations agreed to an out-of-court settlement with a value that has not been disclosed.
At the end of the day, the path for Spencer to compete at the World Championships and the Summer Olympics of 2020 has been cleared completely and she now has the opportunity to go for gold without the looming specter of an anti-doping investigation hanging over her head any longer.