Dawn Harper-Nelson is an American hurdles champ who won the hundred meters hurdle competition during the Olympics in Beijing, China. She's been banned from competition for three months due to a failed drug test. The test for banned substances showed that she had a the diuretic, Hydrochlorothiazide, on board when she was tested.
Since she tested positive for this banned substance, she's not allowed to compete and her results from competitions on the first of December, 2016, and afterwards, are now forfeit.
Dawn is currently thirty-two years of age. The substance that she had on board is never permitted, based on rules from the USADA Protocol (for Olympic and Paralympic Movement Testing), as well as on rules set by a range of other governing bodies, including U.S. Olympic Committee, which has strict national anti-doping policies in place.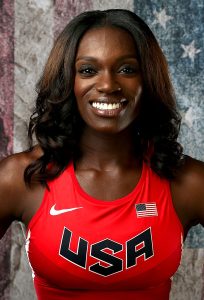 According to Harper-Nelson, the positive test result was triggered by her taking a drug which a doctor had prescribed in order to alleviate symptoms of high blood pressure. The USADA didn't have an issue with her explanation. However, the failed test result still stands.
Dawn explained via her social media profile that she was taken to the emergency room after getting a diagnosis of hypertension. She remarked that her physician gave her a prescription for a medication which was not performance enhancing and which was designed to treat hypertension. The medication contained the banned diuretic.
Harper-Nelson also explained that her usage of the hypertension medication was not hidden by her from anyone. However, she admitted to failing to comprehend recent anti-doping rules.
Harper-Nelson Has Taken Responsibility
Harper-Nelson has owned up to her role in the failed drug test. She's been cooperative with governing bodies over the matter. According to Dawn, it's a lesson that she has learned and she wants other athletes to heed her warning to be more careful about what they put into their bodies prior to competitions.
Dawn also won a silver medal after competing in the Olympics in London, during 2012. She was the first USA athlete to grab a gold medal during the Olympics and this happened during her competition in Beijing.
Dawn is a Powerful Hurdler
Harper-Nelson's talent for hurdling was recognizable early on, during her high school athletic career. She won tons of competition at that level and at the college level, before ascending to the highest pinnacle of hurdling success during the Olympics.
Her suspension and forfeited medals speak to the importance of following banned substance rules all of the time.