Hurdler from Jamaica Kaliese Spencer, is denying the allegation that she refused to issue a steroid sample. If found guilty of evasion or positive for use of steroids, she could be suspended for up to four years. Her team is prepared to do all that is necessary to protect her reputation, and allow her to continue on as a prized Jamaican athlete.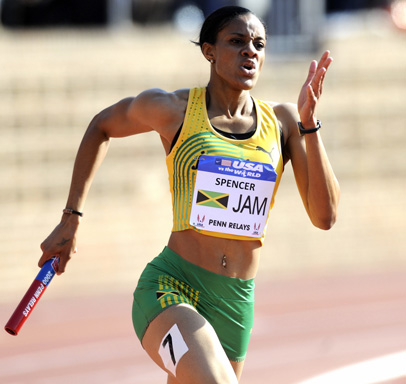 After both Spencer and co-trainer Riker Hylton refused to issue customary anti-doping samples, the story blew up. Both training together, and simultaneously failing to meet the standards of the Jamaican Anti-Doping Commission, a level of suspicion to the case has arisen.
Spencer, who is both a double silver medallist, and a former 2014 Commonwealth Games champion, is no doubt a special hurdler and one of the most exciting athletes to come out of Jamaica. Despite having supreme talent, the pathway to gold hasn't always been easy for Spencer. In the 2012 Summer Olympics she came in at fourth during the 400 meter hurdles.
Both Kaliese Spencer and Riker Hylton have been simultaneously referred by the Jamaican Athletics Administrative Association (JAAA) for a hearing with the Independent Anti-Doping Disciplinary panel. The (JAAA) attests that both athletes are in violation of article 2.3 which touches on failing, evading, or flat out refusing to provide a doping sample. Any further information, however, is unavailable seeing as the case is currently before the panel.
As previously stated, quarter miler Riker Hylton was also flagged by the JADCO for not having issued a doping sample himself. Hylton, A former 4×400 meter relay world champion, was allegedly shocked upon hearing the news that he was in violation of anti-doping code.
Riker retorted by claiming that he was injured while training during the visit by the Jamaican anti-doping commission officials.
He claimed that he was literally able to sit aside, and watch as the commissioners approached his teammates for samples but passed him by. Assuming that he was in the clear, he went home. Since hearing of his violation, he feels that this is all a terrible misunderstanding that has quickly spun out of control. He claims that after the ordeal, a friend even approached him asking whether or not he had been issued a sample, to which he replied that he had not. Both he and his coach Bert Cameron, approached the commission's office to explain the situation, but we're simply told that an email that he had not taken the test would be sent promptly.
Spencer's hearing is scheduled to take place in Jamaica on May 15th. Whether or not the provisional ban will be lifted in her case, she will find out shortly. Jamaica's independent anti-doping disciplinary panel will be present, and whether or not she is suspended for up to four years, will be in their hands.
Spencer comes from a family of athletes. Both her mother, Merfelin Spencer, and her father Joshua Spencer were runners. Her mom ran in college as a 400-meter runner, and her father was a middle distance runner. She followed in the family footsteps and honed her craft at The University of Technology in Jamaica.
She kicked 2008 off to a legendary start by running a 50.55 second 400 meter, which was a personal record. During the same year she encountered an unfortunate hip injury, which led her to miss out on competing with her fellow Jamaican teammates during the 2008 Beijing Olympics. She has also competed as a runner in 4×400 relays. Spencer is notably one of Jamaica's most prized athletes, and come May 15th we will find out what the panel decides her future will be.