Thirty one year old Italian rider, Mr. Pierpaolo De Negri has failed to pass testing to rule out the use of anabolic steroids, and his results return adverse findings showing there to have been anabolic androgenic steroids in his system. The sample which produced the adverse results was collected in December of 2017. Between the years of 2014 and 2017, the rider rode as part of the Nippo Vini Fantini team. He was then signed as part of the MsTina Focus team for the 2018 season. Prior to the unfortunate test result, he had previously been suspended from participating in competition and features on the UCI (Union Cycliste Internationale) list of riders who have been provisionally suspended. To date, the UCI has failed to provide any further statement relating to the test result.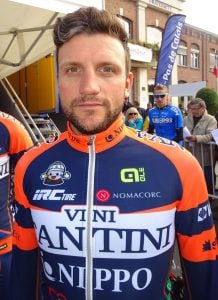 MsTina has issued a short statement via the popular online social media Outlet Twitter, which confirms that he has been notified of the test result relating to the sample that was collected from him while he was out of competition. They said that they felt that the team is certain that he will be able to clarify the story, and that the positive test result was discovered prior to him joining the team. His suspension meant that he was not part of the lineup for the team at the Trofeo Laiguelia on the 11th of February 2018. Over the past few months, there have been several cases of adverse findings, which have been announced by the UCI. This includes the names of 12 individual Riders who all tested positive from samples that have been taken on one day in December 2017 during the Vuelta Cyclists International a Costa Rica.
Pierpaolo De Negri is one of many professional cyclists who has been discovered to take performance-enhancing drugs to help further boost their career. It comes as no surprise that many cyclists choose to use PEDs, I see Financial rewards for those signed up to professional teams can be lucrative, to say the least. Throughout the year of 2017, many other Competitive Cyclist were found to test positive for anabolic steroids in their system. In April of 2017, nine cyclists produce positive results which go against anti-doping regulations. In February 2017, Lionel Flores was found to have Phentermine and anabolic steroids in his system, he was subsequently banned from participating in the sport for 4 years. In August 2017 Juan Murillo, who was part of the Guada bikers 118 team, was banned from participating in the sport for 4 years and given a fine of 10,000 euros after a positive test result showed continuous erythropoietin receptor activator in his system (CERA). CERA is a third-generation stimulant, which is commonly known as EPO.
So far in 2018, the 11 doping cases to date all originated from the same day on the 31st of January at the Vuelta cyclist a Costa Rica of which all of the individuals were suspended by the UCI after the discovery of EPO-CERA in their systems. Those suspended include J. Carlos Rojas, C. Rojas Villegas, Leandro Varela coma Vladimir Fernandez coma Jose Villalobos, Jason Huertas, Jose Irias, Gabriel Marin, Melvin Marwas, Kevin Murillo Solanowas, and Jordy Sandovalawas. There will undoubtedly be more names added to this list as the year progresses. The rise in popularity of 3rd Generation blood boosters is giving many riders an unfair advantage over their competitors. Along with the use of anabolic steroids, EPO-SERAs are becoming a popular performance enhancing drug used by many competitive athletes throughout the world of cycling and sports.
Source: http://www.cyclingweekly.com/news/latest-news/italian-rider-fails-test-anabolic-steroids-368740