Reports today that Rich Piana has passed away during the night of Thursday August 24.
Rich was in a medically induced coma after banging his head on August 7. He was said to have collapsed in his bathroom for unknown reasons.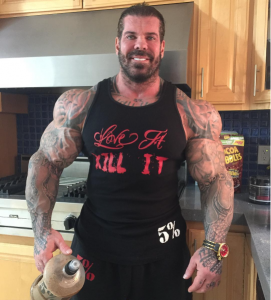 For those unaware, Rich Piana is bodybuilder and social media celebrity and founder of "Rich Piana 5% Nutrition". He has a large following on Instagram with some 1.2m followers.
TMZ.com first reported the turn of events last week. It stated a possible overdose was the cause of his collapse, but this has not been confirmed by anyone close to him. Then reports were circulated that lines of a white substance were found on his lounge table, possible cocaine. Police also stated they found 20 vials of steroids at his home.
After his collapse he was rushed to hospital and he was unresponsive and placed in a medically induced coma. Head trauma is often treated like this to protect the brain.
According to TMZ, Chanel Jansen his girlfriend, was giving him a haircut and then he unexpectedly collapsed banging his head. CPR was then administered after guidance by emergency services on the telephone.
Emergency responders gave him Narcan (naloxone) to block the effects of an opioid overdose, said to be the white powder he may have ingested. He did not respond and remained unconscious and was transported to the nearest hospital for further treatment.
For the week following there have not been a lot of updates on Rich's condition. This worried many as they did not assume he was improving.
Sadly, it looks like Rich has died following his injuries on August 7. At 45 years old, Rich Piana's death adds to a terrible week after IFBB Pro and rising prospect Dallas McCarver passed away two days ago by allegedly choking on his food and collapsing.
RIP Rich Piana.