By Admin – Steroidal.com
A Sayreville High School employee has been arrested following the discovery of anabolic steroids in his possession.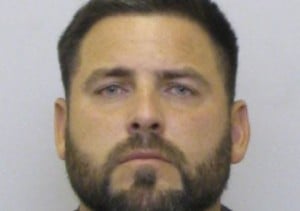 Charles Garcia, 38, the assistant coach and defensive coordinator for Sayreville High School, was found to be in possession of injectable anabolic steroids and syringes and needles. He was subsequently arrested and charged with illegal steroids possession.
According to the criminal complaint in Superior Court in Somerville, Garcia was pulled over in Bridgewater last week due to suspicious behaviour. According to Bridgewater Police Officer Kevin Florczak, he was checking the parking lot and noticed a 2013 Dodge Ram pickup truck with its engine running and an occupant inside (Garcia). After officers followed Garcia, he made a U-turn, then an illegal lane change, so officers moved in and pulled him over.
Garcia's car was then searched after a dog unit detected drugs in his vehicle.  Police found pre-loaded injectable syringes with oil inside, proving their suspicions on Garcia correct.
Also found in the driver and passenger doors were bags of steroids containing 14 individually sealed and capped pre-loaded syringes containing Testosterone, thought to be Sustanon 250 from Mexico. Two boxes were discovered, each containing a total of 400mg of steroids each.
The defensive attorney for Garcia, Philip Nettl of New Brunswick, attempted to distance Garcia from steroids and the football team of Sayreville High School, stating there is no indication Garcia was responsible for selling or trafficking anabolic steroids.
Garcia hasn't only been charged with illegal steroid possession and needles, but also traffic offences including; possession of a controlled dangerous substance in a motor vehicle, failing to signal a lane change and driving with an expired licence.
Garcia is scheduled to make his first court appearance on October 10th.
Garcia has also resigned from his post at the high school.
Source:
Amaral, B. (October 3, 2014). Sayreville game was not cancelled because of assistant football coach's steroid arrest. Retrieved from http://www.nj.com/middlesex/index.ssf/2014/10/sayreville_game_not_canceled_because_of_assistant_football_coachs_drug_arrest.html