Researchers out of the United Kingdom have been studying the impact blueberries may have on our overall health and well-being. They recently came across an interesting discovery that may have long-term health impacts worldwide.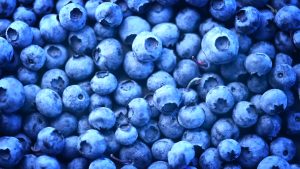 According to the paper that they have just recently published in the American Journal of Clinical Nutrition, individuals between the ages of 50 and 75 that consume a cup of blueberries every single day can dramatically reduce their risk of overall cardiovascular disease – sometimes by as much as 15%.
Participants in this study were asked to eat a cup of blueberries every single day over a six-month block of time, with 115 of the individuals clinically classified as overweight or obese. 30% of the test subjects also had metabolic syndrome issues, including insulin resistance, and many had already experienced a deterioration in their overall cholesterol levels as well as a general decline in the well-being of their vessel walls and cardiovascular system as a whole.
Researchers divided all test participants into three different groups.
One group received a placebo, another group received a dish of 75 g of blueberries and the third group received a dish of 150 g of blueberries. All were asked to consume their protocol on a daily basis.
While the group that consumed 75 g of blueberries on a daily basis saw considerable improvement in their overall health and well-being, particularly when it came to cardiovascular health, it was the group that ate 150 g of blueberries that saw the biggest difference.
In just six months, this group was able to fundamentally improve the flexibility of their blood vessels, to improve the overall concentration of cGMP, and had also been able to elevate their "good cholesterol" levels (HDL cholesterol) across the board.
Interestingly enough, the researchers initially believed that it was going to be the group that consume 75 g of blueberries that saw the biggest jump in overall health and wellness. They thought that 150 g of blueberries would be "overkill", but at the end of the day it was this group that saw the biggest climb in overall health markers and the greatest improvement in cardiovascular health.
At the end of the day, the researchers in the United Kingdom are confident in stating that those living with metabolic syndromes (particularly those significantly at risk of heart disease, stroke, and diabetes) should be doing everything in their power to eat at least a couple of blueberries on a daily basis.
Obviously, researchers aren't suggesting that blueberries alone are enough to overhaul the cardiovascular health of a particular individual. But they are suggesting that this is a fantastic all-natural approach to improving your health and wellness, a solution that may help to lower the amount of prescription or over-the-counter drugs needed to control cardiovascular issues, and something well worth continuing to look into moving forward.
Previous studies had shown that individuals consuming blueberries on a routine basis lowered their risk factors for Type II diabetes as well as other cardiovascular conditions. The researchers believe this is because of the fact that blueberries are naturally high in a variety of important biochemicals called anthocyanins – the flavonoids in blueberries responsible for their blue color in the first place.
Other lifestyle improvements can certainly help to keep cardiovascular issues at bay, including regular exercise, better sleep, and improved dietary choices with high levels of hydration. But consuming a cup of blueberries every single day should not go overlooked, particularly by those that want to be 100% certain they are doing everything they can to protect their bodies against cardiovascular issues in both the short and long-term.
Sources:
https://www.medicalnewstoday.com/articles/325346.php
https://www.sciencedaily.com/releases/2019/05/190530101221.htm