Have you heard of UFC Welterweight fighter, Viscardi Andrade? Well, he just received a two-year suspension, following a positive drug test result. He tested positive for Winstrol, which is also known as the anabolic steroid, Stanozolol. This two-year suspension was announced by the USADA (United States Anti-Doping Agency) during late March of 2017.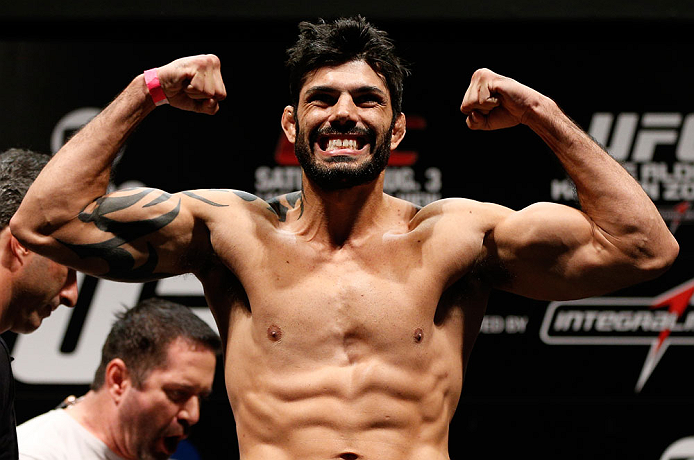 The test was administered a little under two weeks before Andrade fought Richard Walsh during UFC Fight Night 85. This event was held at the Brisbane Entertainment Centre, which is located within Australia. A drug test official showed up to collect a sample on the seventh of March of 2016. Andrade gave the sample and then went on to win the fight. He won by a unanimous decision. The fight took place on the 19th of March, 2016.
So, why is he getting punished now, one year later? Well, testing of the sample was delayed. It was eventually tested at a lab in Rio de Janeiro, which is WADA-accredited. After USADA let UFC officials know about the positive steroid test result, the ultimate fighting organization decided to disqualify Andrade. Now, the score for his fight with Walsh is listed as "no contest".
Taking Steroids is a Risk
Athletes at the professional level certainly know the risks of taking steroids and so many choose to take them anyway! Andrade had a positive test result for Winstrol, as well as metabolites of Winstrol. This steroid is banned as a non-specified Substance, within the Anabolic Agent category. Using it goes against the anti-doping regulations of UFC, which were adopted in accordance with the "prohibited list" of the WADA (World Anti-doping Agency).
Winstrol Was Once Hard to Detect
Testing for banned substances has changed and evolved. At one time, the steroid that Andrade tested positive for was pretty hard to detect, so it's safe to say that a lot of fighters and other types of athletes were able to use it and get away with it. Now, tests for banned substances are increasingly sophisticated.
Athletes feel a lot of pressure. They want to win and they train so hard, even when steroids are used. Quite often, they feel that they are simply leveling the playing field by using steroids, as they believe that many of their competitors are using them. In other words, for one reason or another, they just aren't confident that they can win without steroids in their bodies. Steroids do boost strength and endurance and this is why athletes take the risk. The urge to win drives them to break the rules.
Now that tests are getting so sensitive, new positive results for banned substances are popping up on a frequent basis. Whether it's Russian Olympic athletes, Chinese Olympic athletes or UFC fighters, it's safe to say that athletes who do use steroids are going to be taking bigger risks than ever. In addition, retroactive testing with more sophisticated tests means that athletes who test positive may be punished long after their competitions are over.
There Was a Testing Issue
Andrade's test sample was processed in a lab which lost WADA accreditation for a time. This accreditation was later reinstated. Whether Andrade will protest the validity of his positive test result remains to be seen. If the lab can prove that the sample was handled properly and that the test was conducted professionally, it may be difficult for Andrade to contest the finding. It's too bad, as his reputation is going to take a hit and he won't be able to fight for years…