By Admin – Steroidal.com
A UFC fighter in the welterweight division has been suspended for 6 months after testing positive for the SARM Ostarine.
Ostarine is a selective androgen receptor modulator (SARM) and was originally developed by Merck & Company. Gtx Inc then carried out further research on the compound.
SARMs were thought to be excellent and safe substitutes for anabolic steroids, acting on the andrgon receptor (AR), but not exerting the same toxic side effects as steroids. This, though, wasn't the case and SARMs were shown to be suppressive to endogenous testosterone, as well as yield other negative side effects.
Tim Means is the UFC fighter that has been suspended following the The United States Anti-Doping Agency (USADA) decision on his performance-enhancing drug (PED) test failure.
Means was tested on January 21, 2016 and failed for using the popular SARM Ostarine, or also called MK-2866. Means stated that he had not been using any anabolic steroids, SARMS, HGH or PEDs, but still breached the UFC Anti-Doping Policy. He proclaimed his innocence and claimed he had used a contaminated dietary supplement.
Many athletes claim ignorance when faced with lengthy bans after failing routine drugs tests, whilst some claim to have used contaminated food and dietary supplements. But Means went a little further. He sent USADA a sealed bottle of the supplement he had been using and after analysis, Ostarine was shown to be an undisclosed ingredient, not mentioned on the supplement facts in the rear label.
"Following notification of his positive test, Means provided USADA with a sealed container of one of the dietary supplement products he was using at the time of the relevant sample collection," USADA said in a statement. "Although no prohibited substances were listed on the supplement label, testing conducted on the product by the WADA-accredited laboratory in Salt Lake City, Utah, indicated that it contained Ostarine (MK-2866). The presence of an undisclosed prohibited substance in a product is regarded as contamination. Accordingly, the product has since been added to the list of high risk supplements maintained on USADA's online dietary supplement safety education and awareness resource – Supplement 411."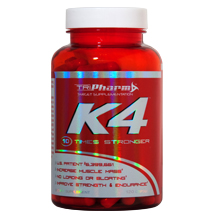 USADA haven't named the contaminated dietary supplement, but Means has been an advocate of Intek Nutrition products in the past. Saying in February 2016, ""I'm on Intek, it's a company I've been with for years now. They've always been supportive. It's a supplement I trusted, that I've been drug tested on before. It just came right out of left field, man. I can't even be mad. I just have to backtrack and try to think of what turn did I take to get to this point?"
Although Means stated the above, Intek Nutrition does not feature on the 'USADA Supplement 411: High Risk Dietary Supplement List', so what is the aforementioned supplement?
Well, from research Steroidal.com has conducted, we may have the answer.
One day prior to the announcement of Means' 6 months ban, USADA added 'TriPharm K4 Kre-Alkalyn R' as a dietary supplement contaminated with Ostarine.
According to the USADA website it states: "A seal container of Lot #C150633 tested positive for Ostarine. In testing of sealed bottles of Lot #C130703 and Lot #C151160, no Ostarine was detected."
So is this a coincidence, or is this the supplement mentioned? Either way, it's advised to avoid and use other dietary supplements containing kre-alkalyn if you're a tested athlete or person.
Source:
http://www.bloodyelbow.com/2016/3/17/11256482/source-two-year-ban-for-means-off-the-table-mma-ufc-news-peds-tim-means-usada-steroids