By Admin – Steroidal.com
The couple that were behind the U.S. remaining operation of well-known internet steroid source – Uncle Z – have found themselves arrested again after continuing to manufacture anabolic steroids.
David and Holly Starkey were only arrested months ago in Indiana, after being caught manufacturing large amounts of injectable and oral steroids last August. It then came to light that they were the remailing operation behind the Polish internet source – Uncle Z or "Z".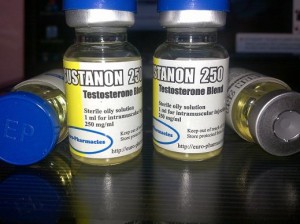 Rushville Police officers and deputies from the Rush County Sheriff's Department, executed a search warrant on the Starkey residence in Rushville, after intelligence led them to believe their home was still being used as a underground lab (UGL), even after their first arrest.
Discovered at their address was, 200 vials of injectable steroids, lab equipment, printers, labels, envelopes, sterilisation and filter equipment, cash and scales. Raw Testosterone hormones powder was also found, as well as the popular oral steroid – Dianabol.
This second seizure, somewhat smaller then the first, is estimated to be around $20,000.
Rushville Police Chief Craig Tucker went on to state he hoped this UGL would of seen its end the first time it was shutdown, and the Starkey's had learnt their lesson.
"We really would have rather this whole situation been put to bed the first time and a lesson learned and a debt repaid by everybody. Unfortunately that wasn't the case," he said.
Police Chief Tucker also said that David Starkey was arrested again with 500g of raw steroid powder and was transporting the powder to take home for its manufacturing into capsuled and tablet products and injectable steroids.
The Starkey's were first arrested last year and found to be behind Euro-Pharmacies, a U.S. UGL run by Uncle Z.
The first raid turned up almost 2kg of raw hormone steroid powder and shed light on Uncle Zs and the Starkey's financial agreement.
David and Holly Starkey said they would be paid $10 for oral steroids packs and $20 per injectable steroid orders, earning them both around $2,000 per week. With Uncle Z perhaps one of the oldest and well-known steroid sources, this seems realistic.
Five additional charges have been added to the Starkey's list of felonies after this latest round of steroid seizures and illegal activities. All the charges in Rushville County are now listed as: dealing in a controlled substance, conspiracy to commit dealing in a controlled substance, possession of a controlled substance, corrupt business influence and maintaining a common nuisance.
Financial problems first got them involved in dealing anabolic steroids, but you'd think they would have learnt from their first arrests and subsequent charges.
Holly Starkey was being held in the Rush County Jail. David Starkey was being held in the Shelby County jail.
Source:
Haeberie, B. (January 6, 2015).  Rushville couple arrested again for alleged steroid lab.  Retrieved from http://wishtv.com/2015/01/06/rushville-couple-arrested-again-for-alleged-steroid-lab/