By Anthoney J. Andersen – Steroidal.com
When it comes to losing weight, the idea behind it can be quite daunting, but also exhilarating when you consider how rewarding the results can be on your health – both physically and mentally.
For a lot of people, the idea of having to give up their favorite foods are what causes them to steer clear of certain diet plans altogether.
But what if there was a diet plan where you could still eat a lot, while losing weight? Good news is, you're in luck, because there is a diet plan that allows you to do just that.
It's called the volumetrics diet.
THE PROMISE
The volumetrics diet is a weight loss plan that was created by Penn State University nutrition professor, Dr. Barbara Rolls, Ph.D. Unlike some diets where the goal is to deprive your body of food – in an attempt to control your daily caloric intake – the volumetrics approach helps people find healthy foods that they can eat a lot of, while still losing weight.
According to WebMD, the hook of volumetrics is its focus on feeling full. Dr. Rolls says that people feel full because of the types and amounts of foods, not because of the number of calories or the grams of fat, protein or carbs. So the goal is to consume the right foods that will fill you up with fewer calories.
In her laboratory at Penn State, Dr. Rolls has studied dietary patterns and eating behavior. Based on her research and that of others, she has determined that the volume of food that people eat affects both how satisfied they feel and how much they eat, according to Diet.com.
Dr. Rolls claims that in some cases, following volumetrics will allow you to eat more – not less – than you do now, while still slimming down.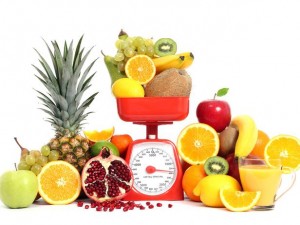 Dr. Rolls divides the volumetrics diet into four groups:
Category 1 (very low-density): Includes non-starchy fruits and vegetables, nonfat milk and broth-based soup.
Category 2 (low-density): Includes starchy fruits and vegetables, grains, breakfast cereal, low-fat meat, legumes and low-fat mixed dishes like chili and spaghetti.
Category 3 (medium-density): Includes meat, cheese, pizza, French fries, salad dressing, bread, pretzels, ice cream and cake.
Category 4 (high-density): Includes crackers, chips, chocolate candies, cookies, nuts, butter and oil.
According to an article on USnews.com, you'll go heavy on categories one and two, watch your portion sizes with category three and keep category four choices to a minimum. This low-calorie, high volume-eating plan includes foods with a lot of water and fiber, since both are known to deliver your body with a sense of 'fullness'.
Each day, you'll eat breakfast, lunch, dinner, a couple of snacks and dessert. How strictly you abide to the philosophy of volumetrics is up to you.
HOW MUCH WEIGHT WILL YOU LOSE?
When it comes to diet and exercise, everybody's results will be different. However, if you attack your weight loss with some determination and will power, you should see the pounds begin to melt away.
According to the Centers for Disease Control and Prevention, diets that are rich in low-energy-dense foods, have been shown to promote fullness on fewer calories and deliver weight loss.
In a study published in the American Journal of Clinical Nutrition in 2007, researchers randomly assigned 97 obese women to either a low-fat diet or low-energy-dense, low-fat diet that emphasized fruits and vegetables. After a year, both groups lost weight, but the fruits-and-vegetables dieters lost even more – 14 pounds compared to 11 pounds.
The researchers concluded that low-energy-dense diets were a more effective way to drop the pounds and keep them off.
In another study – coauthored by Dr. Rolls – researchers investigated ways to maximize weight loss on a low-density diet. Two hundred overweight and obese adults were placed on a low-density diet and divided into four groups: one group received a serving of soup a day, another group received two servings of soup, and a third group got two daily snacks – like crackers or pretzels.
Individuals in a fourth comparison group shaped their own low-density diet, without any special food instructions. After one year, those who supplemented their daily menu with one soup serving lost 13.4 pounds, compared with 15.9 for the two-soup group, 10.6 for the two-snack group, and 17.9 for the comparison group that shaped their own diet.
PROS & CONS
Dr. Rolls provides simple recipes and offers guidance on how to stay within the recommended calorie-intake. The diet is flexible and easy to modify with different ingredients based on personal preferences.
The diet also emphasizes exercise as a vital component to healthy weight loss. It is recommended that dieters aim for at least 30-60 minutes of exercise a day. If this is your first time following a diet plan and/or exercise regimen, then Dr. Rolls suggests keeping a record of eating habits, as well as any physical activity.
One of the aspects of the volumetrics diet is that it does require an extensive amount of home-cooked meals, which can often be a deterrent for anyone looking to start a diet plan. Some people may be turned off at the amount of time it takes to prepare, cook, calculate energy densities of foods and keep daily records.
But for those individuals who put in the time, the volumetrics diet can be a very rewarding and healthy long-term approach to weight loss.
Motivation is key.