By Anthoney J. Andersen – Steroidal.com
Whether you're looking to tack on lean muscle, or just looking to eat healthier, fish can be beneficial in helping you achieve both.
Fish is a great source of protein, and unlike fatty meat products, is low in saturated fat. If you or your family have a history of heart disease, then consuming fish – which is high in omega-3 fatty acids – regularly can be vital in maintaining a healthy heart.
According to the American Heart Association, omega-3 fatty acids decrease the risk of arrhythmias (irregular heartbeat), which can lead to sudden death.
Omeag-3s have also been linked to the reduction of your body's triglyceride levels, the slowing rate of atherosclerotic plaque and blood pressure levels.
According to the National Institute of Health, an analysis of 20 studies proved that consuming one to two three ounce servings of fatty fish a week – salmon, herring, sardines and anchovies – reduces the risk of dying from heart disease by 36 percent.
In doing so, you also reduce your chances of stroke, blood clotting and improved learning ability in children.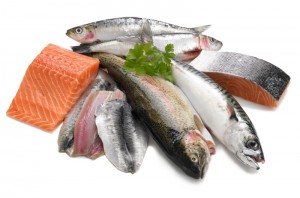 CHOOSING THE RIGHT FISH
According to WebMD, the following is a list of fish that contain the highest amount of omega-3 fatty acids: salmon, lake trout, herring, sardines and tuna.
Certain fish that you may want to avoid because of the high levels of unhealthy fatty acids are tilapia and catfish.
When it comes to eating fish, the health benefits also stem from how it's prepared. For example, broiling or baking fish is a healthier option than deep-frying.
One of the biggest concerns that consumers have about fish is the mercury level. High levels of mercury are usually found in older, larger, predatory fish and marine mammals.
The U.S. Food and Drug Administration (FDA) explains that the benefits and risks of eating fish vary depending on a person's stage in life:
Children and pregnant women are advised to steer clear of eating these types of fish that are known to contain the highest levels of mercury: shark, swordfish, king mackerel and tilefish.
Instead, children and pregnant women should look at eating up to 12 ounces (two average meals) of fish with low levels of mercury: canned tuna, Pollock and salmon.
For middle-aged and older men and postmenopausal women, the benefits of eating fish are much greater than the side effects or adverse reactions to mercury consumption.
IGNORING THE DOCTOR'S ORDERS
According to the U.S. Department of Agriculture (USDA), less than one in five Americans actually eats the recommended amount of fatty fish a week, if at all.
This can be attributed to a plethora of factors including not liking fish, the cost, access to stores that sell fish and the uncertainty of how to properly prepare or cook fish.
Doctors at MedicineNet.com, suggest that people research and educate themselves on the benefits of adequate fish consumption because it may one day save their life.
OMEGA-3 ALTERNATIVES
If you are a person who absolutely dislikes all types of seafood, rest assured that there are other alternatives to maintaining proper omega-3 fatty acid levels.
Many Americans receive their omega-3s in the form of alpha-linolenic acid (ALA), which is found in flax seeds, walnuts and certain vegetable oils.
According to the Harvard School of Public Health, ALA is not metabolized to the marine omega-3s that are found in most seafood.
Omega-3s can also be found in the form of fish oil supplements. These supplements are often made from herring, tuna, halibut, whale and seal blubber.
According to MedlinePlus.gov, fish has earned a reputation as "brain food" because some individuals eat fish to help alleviate depression, psychosis, attention deficit-hyperactivity disorder (ADHD), Alzheimer's disease and other thinking disorders.
CONCLUSION
Whether you love seafood or not, it's important that you consume some form of omega-3 fatty acids in order to maintain a well-balanced diet that will contribute to your overall health and well-being.
If you remain unsure on what types of fish are the safest to eat and contain the highest levels of omega-3s, then it's best to consult your doctor so you can find a regimen that best caters to your diet needs.
Go fish.