By Admin – Steroidal.com
Former UFC champion Anderson Silva has explained why the anabolic steroid Masteron was found in his urine sample, after failing a routine drugs test.
Anderson Silva, nicknamed 'The Spider' and former UFC middleweight champion, has explained how drostanolone (Masteron) was found in his urine sample after failing a performance enhancing drugs (PED) test.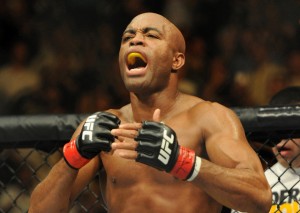 The failed PED test was on January 9, 2015, causing a media frenzy on whether or not Silva had been caught cheating or not, after being one of the UFC's most decorated MMA fighters. Silva has been outspoken his entire career, denying anabolic steroid use and slamming those caught using performance enhancers in MMA. Many then called Silva a hypocrite saying he had a lot of explaining to do.
The WADA run Sports Medicine Research & Testing Laboratory (SmaRTL) found metabolites of two performance-enhancing drugs in Silva's system – drostanolone and androstane.
When news reached the MMA world Silva had failed a PED test, Silva immediately denied any wrongdoing. That then changed a little, after he admitted using injectable vitamin B12 (hydroxocobalamin) shots and anti-inflammatory drug named Dexalgen. Dexalgen contained Vitamin B-12 along with dexamethasone, a powerful anti-inflammatory corticosteroid.
Dexalgen is made by Europharma Labratories, a pharmaceutical grade vitamin, health and medical product manufacturer. So, the chances of it being contaminated with Masteron are extremely slim. Silva's explanation wasn't holding up.
Unfortunately for Silva, his problems with failing drugs tests didn't end there. First to show up in Silva's urine was drostanolone and androstane. Then a further two prohibited drugs also showed up. The anti-anxiety medication Oxazepam (Serax) and the anti-insomnia medication temazepam (Restoril).
The official complaint was obtained by MMA website Combate.com and likely detailed Silva's defence. The complaint was filed by defence attorney Michael Alonso and sheds light on the defence strategy for the next Nevada State Athletic Commission (NSAC) hearing.
Silva has admitted using the anti-anxiety and insomnia medications benzodiazepines oxazepam and temazepam, but has again denied using PEDs.
Silva, instead, blamed the ingestion of illegal anabolic steroids on using an erectile dysfunction dietary supplement that was suspected of being contaminated.
The NSAC complaint claims, "…administering or using a supplement for the purpose of enhancing sexual performance and testing of the supplement revealed that the supplement was contaminated with an Exogenous Anabolic Agent: Drostanolone metabolite."
It looks like UFC and Silva fans are going to have to wait a little while longer before he admits cheating.
Source:
McKinnell, R. (August 12, 2015). Anderson Silva blames failed drug test on sexual enhancement supplement. Retrieved from http://sports.yahoo.com/blogs/mma-cagewriter/anderson-silva-blames-positive-drug-test-on-sexual-enhancement-supplement-222835485-mma.html