By Admin – Steroidal.com
UFC's Anderson Silva has tested positive for two anabolic steroids, prior to his January 31st fight at UFC 183.
Following Silva's win over Nick Diaz via a unanimous decision at UFC 183, it seems both fighters have failed drugs tests for different banned substances.
Firstly, UFC champion and veteran Silva, 39, has failed a drugs test for performance enhancers in a test conducted before the showdown with Diaz. The blood test was carried out on January 9th and was found to contain two banned anabolic steroids.
Silva's blood contained metabolites of Drostanolone (Masteron) in the out-of-competitions test and traces of Androstane were also discovered.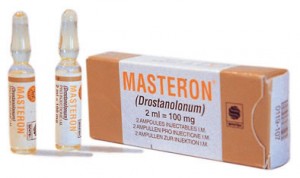 Masteron is a dihydrotestosterone (DHT) derived anabolic steroid and widely used to harden the muscles, reduce body fat and increase strength, power and speed in bodybuilders and other steroid users. Drostanolone is injected and is widely available on the black-market with two esters attached – Propionate and Enantahte – one being fast-acting and the latter slow acting and requiring weekly injections. Masteron doesn't convert to estrogen and aromatase, but works to fight estrogenic side effects and lower levels of sex hormone-binding globulin (SHBG).
Masteron would be a good choice as a performance enhancer, as it wont add much muscle mass, or weight, but will significantly increase power, speed and strength after use. You could see why Silva opted for this anabolic steroid as a PED.
Androstane comes in two isoforms – 5α-androstane and 5β-androstane. Another DHT derived steroid, Androstane is a metabolite of dehydroepiandrosterone (DHEA), the endogenous steroid precursor to testosterone.
Both the above substances are banned in accordance with the World Anti-Doping Agency (WADA) code.
According to Nevada Athletic Commission (NAC) executive director Bob Bennett, Silva was tested three times. Once on January 9th again on January 19th and finally on January 31st after UFC 183. He failed the Jan. 9th test, the results from the Jan. 19th test are still pending, but he passed the urine drugs test following the win over Diaz on January 31st.
The Sports Medicine Research and Testing Laboratory at the University of Utah, are expected to release the Jan. 19th test results in the next few days.
Bennett went on to state that its sad Silva has now failed a drugs test for steroids.
"I think it's very unfortunate.  You can't lose sight of all the other athletes that do what they are supposed to do and fight cleanly. The UFC deserves a great deal of credit for supporting the PED challenge that we currently have. It's just unfortunate for all of us," he said.
Silva is scheduled to appear in front of the Nevada Athletic Commission (NAC) on February 17th.  He will most likely be suspended immediately, with a full and more in depth hearing taking place in March or April.
Nick Diaz tested positive for marijuana in the drugs test following the fight against Silva. He is said to have been slightly over the allowable limit of marijuana, but the report didn't state how much by.
This follows UFC light heavyweight champion – Jon Jones – failing a drugs test for cocaine last year and is thought to be currently in rehab for substance abuse problems.
Source:
S. Al-Shatti.  (February 3, 2015).  NAC: Anderson Silva tested positive for two types of performance enhancing drugs (updated).  Retrieved from http://www.mmafighting.com/2015/2/3/7974697/nac-anderson-silva-tested-positive-for-two-types-of-performance