Kirk Goodkey has pled guilty to the charges of both manufacturing steroids and laundering money, four years after his underground laboratory responsible for producing not only anabolic steroids but other controlled performance-enhancing substances was busted by the feds.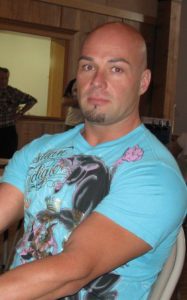 It was way back in September 2014, following an intensive and multi-month long investigation into the Goodkey operation, that Goodkey was first brought up on charges. Police and federal officials shut down the underground laboratory that Goodkey had been maintaining for some time, arresting him and labeling him as the mastermind behind the entirety of the operation.
Describing Goodkey as a criminal mastermind, the five month long investigation was conducted by the Alberta Law Enforcement Response Team. They received a number of tips (anonymous tips) in regards to the operation that Goodkey maintained, claiming that he was importing raw steroid powder from overseas and then producing the steroids themselves locally while shipping them all across Canada and allegedly internationally as well.
Police executed a search warrant on properties maintained by Goodkey in September 2014, finding one of the most sophisticated underground laboratories ever discovered in all of Canada. In his garage and a fair share of the first floor of his property the laboratory sprawled with high-end technology, including commercial pill press technology and powder mixers, as well as sterilizing units, spectrometers, and more that made possible the fulfillment of his far-reaching steroid orders.
On top of all the laboratory equipment the police and federal agents recovered, they also seized almost 400,000 tablets that contained anabolic steroids and other prescription drugs inside of them. Almost 11,000 individual vials of injectable anabolic steroids were also uncovered, and another 125 kg of raw steroid power was also seized during this raid.
Digging deeper into the operation allowed law-enforcement officials to better understand the depth and scope of the criminal ring that Goodkey was behind. This is where the money laundering charges were brought up, as Goodkey fully admitted to funneling the proceeds of his illegal operation through a "legitimate" supplement company he maintained in Canada.
Goodkey told investigators that he was making numerous cash deposits into a nighttime bank deposit box, sometimes five or six times a week, and that each and every one of these cash deposits were strategically limited to less than $10,000 so that they wouldn't trigger mandatory bank reporting rules and regulations.
At the time of the business being shut down and the criminal enterprise drying up federal officials estimate that the entire operation was worth somewhere close to $10 million. It's impossible to know exactly how much the operation actually was worth, especially since there's been a bit of a track record for Canadian officials to exaggerate with these kinds of shutdowns, but it isn't at all unreasonable to assume that the operation was worth at least half that.
Locally Goodkey was known as the CEO of steroids and was considered by many in the weightlifting, bodybuilding, and amateur athletes communities to be the number one source for these kinds of drugs. In his plea agreement, signed in October 2018, Goodkey states that Edmonton is one of the major hubs for illegal steroids in all of Canada – and it's hard not to take him at his word, considering the breadth and scale of the operation that he was running.
Three other co-conspirators have been indicted and charged in association with this underground operation, but none of them are expected to spend as much time behind bars as Goodkey likely will. As for Goodkey, his sentence isn't going to be passed down until February 2019 – though it's likely that he can expect a pretty significant stay in prison due to the severity and scale of his criminal enterprise.
Source: https://www.cbc.ca/news/canada/edmonton/edmonton-steroids-guilty-money-laundering-1.4876733