By Admin – Steroidal.com
Conor McGregor and Nate Diaz agree on something – that the majority of the UFC are on anabolic steroids.
At a recent press conference leading to the much-anticipated UFC 202, McGregor stated that he thought much of the UFC roster was using performance-enhancing drugs (PEDs).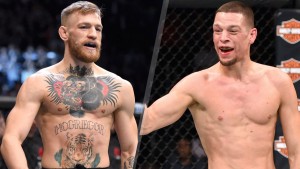 Nate Diaz has consistently vented his fury that a lot of UFC fighters are guilty of using steroids, and to be honest, many have been caught out. Even recently, the pound-for-pound king – Jon Jones failed a routine drugs test leading to UFC 200. He was caught using Clomid and the aromatase inhibitor Letrozole. That could have been part of a tainted dietary supplement, which he's claiming and which GAT Nutrition deny, or part of a post cycle therapy (PCT) program after using anabolic steroids.
That wasn't the only PED incident of UFC 200. Brock Lesnar was given a one-month window to be clean leading to the co-main event bout against Mark Hunt, which he subsequently failed for using Clomid. That drug test failure was arguably suppressed by the UFC, as audience numbers had already taken two hits, when McGregor was pulled for not meeting his media obligations, then Jones violating a PED drugs test ruining his bout again Cormier.
When the most recent press conference went down, McGregor agreed with Diaz constant accusations against other UFC fighters: "The boy is not far wrong — they f*cking all are on steroids," McGregor said during last week's UFC 202 media conference call. "So it is f*cked up. The co-main and main at 200. That's messed up to me. I don't know."
McGregor is actually the most tested UFC athlete, but he doesn't care and has nothing to hide: "I just hope that he's being tested as much as I'm being tested. I am happy to be tested. I never kick up a fuss. I never do [a Jose] Aldo and throw the piss over my shoulder and ring the police like he done in Brazil. I welcome them in, I do the test and on they go and then that's it. It's a good thing for the sport, that's all I know."
The UFC has instructed the United Stated Anti-Doping Agency to test its athletes and carry out analysis of blood and urine samples. This operation has been led by Jeff Novitzky, the main who orchestrated the BALCO steroid scandal, and brought Barry Bonds, Lance Armstrong and Alex Rodriguez (A-Rod) to justice.
More UFC fighters have failed PED tests recently than over with Jon Jones, Brock Lesnar, B.J Penn, Chad Mendes, Yoel Romero, Mirko Cro Cop and Tim Means all joining the banned list this year.
Source: http://www.bloodyelbow.com/2016/8/10/12420124/conor-mcgregor-agrees-with-nate-diaz-they-f-ing-all-are-on-steroids