By Admin – Steroidal.com
UFC Bantamweight Ning Guangyou has failed an out-of-competition drugs test for Clenbuterol, but has not been suspended.
Ning Guangyou was scheduled to fight Marlon Vera at UFC 202 at the T-Mobile Arena in Las Vegas on August 20, 2016. The fight was on the undercard before the main event of McGregor vs. Diaz 2. However, Guingyou was pulled after failing a drugs test months earlier.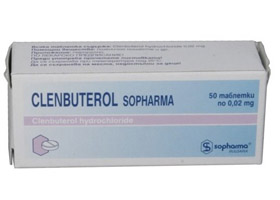 The out-of-competition test was conducted on May 19, 2016, where Guingyou failed for using the stimulant and popular fat burning agent – Clenbuterol. But all is not what it seems.
Guingyou denied using any performance-enhancing drugs (PEDs) and claimed he ingested Clenbuterol as part of eating contaminated meat in China. After the United State Anti-Doping Agency (USADA) reviewed the urine sample again and found the amount of Clen was extremely low.
China and Mexico have a high risk of consuming contaminated meat with Clenbuterol. The World Anti-Doping Agency (WADA) actually issued a warning to athletes back in 2011. As Guingyou is from China, this is almost impossible to avoid.
The USADA statement on contaminated meat read: ""Consistent with numerous prior reported cases globally, the issue of illicit administration of clenbuterol to animals destined for food production can result in, under specific conditions, a positive sample from an athlete," USADA stated.
A decision was made not to suspend Guingyou from UFC competitions or punished after USADA officials found only trace amounts of Clen in his urine. It was then determined he ingested the stimulant unknowingly.
USADA said on the rare care of ingesting contaminated meat in China: "USADA reviewed all of the evidence, including the athlete's whereabouts, dietary habits, and the laboratory reports demonstrating very low parts per billion concentrations of the prohibited substance in the athlete's urine sample, and concluded that the presence of clenbuterol in the athlete's sample very likely resulted from clenbuterol contaminated meat consumed in China. As a result, Guangyou will not face a period of ineligibility for his positive test."
Guangyou's fight with Marlon Vera was then moved from UFC 202 UFC on FOX 21 on Aug. 27 in Vancouver, the UFC announced recently.
Whilst Clenbuterol is mainly seen as a fat burning compound, this beta-2-adrenergic receptor agonist drug is also anabolic in human skeletal muscle tissue. It will boost performance in humans and can contribute to muscle growth. Although not seen as a PED like HGH and anabolic steroids, this drug will enhance performance in large doses.
In a similar case earlier this year, the boxing match between Francisco Vargas and Orlando Salido. Vargas, a Mexico native, failed a drugs test for Clenbuterol 2 months prior to his fight. However, the California State Athletic Commission (CSAC) and the Voluntary Anti-Doping Agency (VADA) allowed the fight to go on after Vargas had passed every other out-of-competition test leading up to the June 4 bout.
This excuse wont work for U.S. MMA and UFC athletes though. So far, only athletes from China and Mexico have gone unpunished when very low levels of active Clen have been discovered in blood and urine.
Source: http://www.mmafighting.com/2016/8/9/12416676/ufc-s-ning-guangyou-fails-drug-test-for-clenbuterol-usada-finds-no