By Admin – Steroidal.com
UFC fighters Jon Jones and Brock Lesnar will have their mandatory suspensions reduced after using performance enhancers.
Both Jones and Lesnar will have their suspensions reduced to only one year, not the mandatory two-year suspension when failing a drug test for performance enhancing drugs (PEDs).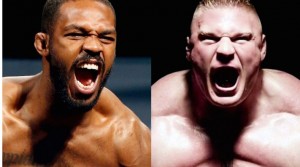 According to the United States Anti-Doping Agency's (USADA) policy, the two substances found in the blood and urine of both fighters – Letrozole (Femera) and Clomid metabolites found in Lesnar's blood, are seen as "specified substances" by the World Anti-Doping Agency (WADA). WADA outlines the guidelines that USADA follow, which in turn enforce drug testing and punishments for the UFC.
The WADA Code states that selective estrogen-receptor modulators (SERMs) and aromatase inhibitors (AIs), may be ingested by accident or that malice was not used to enhance performance. The Code states, "there is a greater likelihood that these (specified) substances could be susceptible to a credible non-doping explanation."
Lastly, a tribunal is often used for sanctions and the set rules in the Code for suspensions and punishments are not followed exclusively.
Once a punishment is set, the alleged drug offender can also choose not to accept the suspension and a possible public warning is done by USADA for the offence. The offender is also given arbitration overseen by the American Arbitration Association (AAA). This association is independent of USADA and WADA. Offenders can choose between one or three arbitrators when reviewing the case.
USADA has so far not sanctioned both Jones and Lesnar, but many have assumed both will be out of action for up to two years. This is not the case.
Jones failed an out-of-competion test on June 16 and it was reported at the time of Clomid and Letrozole, although Dana White has thus stated he did not fail for both anti-estrogens. He was subsequently pulled from UFC 200 against Daniel Cormier and blamed ingesting contaminated dietary supplements. This was then denied by GAT Nutrition.
Brock Lesnar failed an out-of-completion test on June 28 and in-competition test on July 9. He was also given only one month to be clean for PED testing, as opposed to all other fighters returning from a break having to be clean for three months. Anyhow, he failed. The UFC are said to have suppressed the drug test results as they had already lost McGregor vs. Diaz 2 as the main card and then Jones for his PED test failure.
The Nevada State Athletic Commission (NSAC) also has the right to suspend and fine the fighters, but they will likely follow the USADA sanctions when completed.
Source: http://www.mmafighting.com/2016/8/24/12622264/jon-jones-brock-lesnar-facing