By Admin – Steroidal.com
The dietary supplement company GAT Nutrition which supplies UFC fighter Jon Jones, says its not to blame for his recent drug test failure.
Former UFC lightweight champion Jon Jones was removed from the UFC 200 main event for failing a performance-enhancing drug (PED) test prior to the fight. The routine PED test violation shocked the MMA world and Jones has denied any wrongdoing.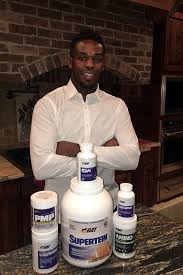 Jones is supplied dietary supplements by one of his sponsors – GAT Nutrition – and vie president, Mark Post, wants to make it clear his line of supplements wasn't responsible for Jones's anti-doping violation with the United States Anti-Doping Agency (USADA).
"Nothing Jon is using from GAT Nutrition contains anything that is banned," said vice president Post. "We do extensive third-party testing and we know he has been tested (with no positives for performance-enhancing drugs) several times. Everything has come up clear. We have no idea what has changed in what he has taken over the last month. We don't live with Jon, and don't even know what the banned substance is."
Jones claimed his cannot even pronounce the compound he's said to have used for cheating, whilst reports today state it was for two estrogen blockers, or selective estrogen-receptor modulators (SERMs). These could include: Clomid, Nolvedex (Tamoxifen Citrate), Evists (Raloxifene Citrate) and Fareston (Toremifene Citrate).
SERMs are used to boost levels of endogenous testosterone in hypogondal males, but in normal males with functioning natural testosterone levels, SERMs wont do much. The same can be said for athletes, SERMs wont generally enhance performance, so why did Jones use SERMs?
Perhaps we had a relatively low testosterone level and wanted to be 'normal levels'. Perhaps he had used anabolic steroids or other PEDs and was using SERMs to boost his testosterone levels as a post cycle therapy (PCT), or perhaps he used tainted supplements.
Athletes have used the tainted supplement card before and mostly unsuccessfully. USADA follows the World Anti-Doping Agency (WADA) Code, which states that athletes are responsible for what they ingest, whether its food or supplements.
Post claimed Jones using two supplements regularly, both of which are sent to independent labs for analysis, before being given to Jones. He uses a pre-workout supplement called PMP Pre-workout and am amino acid based supplement for recovery.
"We have had no issues with any of our products," Post said. "That's what makes me question what (the banned substance) is. We don't take chances with our athletes."
USADA will ban Jones for two years if he cannot prove he ingested a PED by accident by way of taking a tainted dietary supplement. If Jones can prove he ingested a PED unknowingly, then his ban may be reduced.
This recently happened to another UFC fighter, Tim Means, when he proved to USADA by sending them a sealed supplement tainted with the selective androgen-receptor (SARM) Ostarine (MK 2866). Means then had his suspension reduced to only six months.
Jones 'B' sample was also tested and also violation the USADA and UFC policy on PED usage.
If Jones can prove he used a tainted supplement, he could hope for the same outcome, but Gat Nutrition seem pretty certain, its not their fault.
Source: http://www.usatoday.com/story/sports/ufc/2016/07/07/jon-jones-supplement-failed-test-gat-nutrition/86811184/