By Admin – Steroidal.com
Jon Jones has been removed from the UFC 200 card after testing positive for an unknown performance-enhancing drug (PED).
Jones, 28, has been pulled from the UFC 200 card fighting Daniel Cormier in the main event bout, after returning a positive 'A' sample according to the United State Anti-Doping Agency (USADA).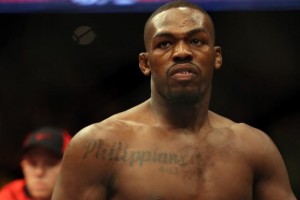 The drugs test samples were taken June 16 and the man in charge of enforcing the UFC's drugs policies, Jeff Novitzky, stated the procedure was "full and fair".
Jones's 'B' sample waits testing. After this has been analyzed, more details will be released on the banned substance Jones allegedly used. Other UFC fighters have failed for using exogenous testosterone, oxandrolone (Anavar), stanozolol (Winstrol) and drostanolone (Masteron). All these androgens are steroids used for enhancing performance, strength and speed and not bulking agents.
Jones has been troubled recently by drugs usage including cocaine and marijuana, but failing a drug test for PEDs is a first. He was stripped of his UFC Lightweight Champion belt after crashing his car into a pregnant woman, breaking her arm, and leaving the scene of the accident back in 2015.
Jones has been the poster-boy of the UFC for a long time, with a record of (22-1) and pound-for-pound king. This latest positive drugs test is added to the list of recent woes for Jones and his camp.
Dana White, UFC president, was understandably frustrated at this positive PED test: "If it's true, obviously super disappointed," White said after learning of Jones' positive while eating dinner in Las Vegas as the news broke.
Cormier, Jones's opponent, was also annoyed at the outcome: This one stings, this is not easy to deal with. It looked like he was doing well. He said all the right things, put a team in place, had a crisis-management coach. It's very surprising," he said after learning of the positive drugs test.
USADA has been cleaning up MMA from drugs cheats and steroid usage since White and UFC Chairman Lorenzo Fertitta's decision to implement stringent testing on its fighters.
UFC 200 has had a hard time and will likely now not break the UFC 196 as the best-selling pay-per-view card in UFC history.
A Conor McGregor and Nate Diaz rematch was meant to headline the event, after Diaz's shock win over McGregor previously. But this wasn't to materialize as Conor refused marking work in Vegas two months before the fight as he didn't want to interrupt his training camp. That rematch has now be scheduled for August 20 at UFC 202.
However, UFC 200 still has some exciting fights, such as Brock Lesnar's return and Jose Aldo v. Frankie Edgar.
Source: http://www.latimes.com/sports/boxing/la-sp-ufc-200-jon-jones-positive-drug-test-cormier-white-usada-20160706-snap-story.html