By Admin – Steroidal.com
Irish Enforcement Agencies have recently stated that half of counterfeit drugs and medicines seized were illegal performance-enhancing drugs (PEDs).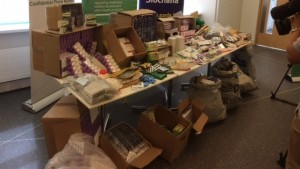 In a single week, the Irish Enforcement Agencies in partnership with the Health Products Regulatory Authority (HPRA) and supported by An Garda Síochána, the Revenue's Customs Service and international agencies, claimed that half of the 60,000 units seized were anabolic steroids.
Not only were anabolic steroids seized, but also 78 abortion pills illegally imported, in the form of Misoprostol and Mifepristone. The haul was said to be worth 350,000 Euros.
A total of 67 illegal pharmacy websites were also investigated and taken down, many offering anabolic steroids and ancillary type drugs for side effects treatment such as, Nolvadex, Arimidex, HGH and Clomid.
The usage of anabolic steroids in the United Kingdom has exploded in recent years, with many young people turning to the image and performance enhancing drugs to boost confidence in their bodies and performance in the gym.
The synthetic oral steroids and injectable drugs have led to many aid organisations claiming more should be done in term of education of the side effects of steroids and offer more support for those turning to steroids.
Irish needle exchanges and drug support agencies have seen steroid users overtake recreational drug users as those wanting injecting and sterilisation equipment. This has also been seen across England, Wales and Scotland.
Merchant's Quay Ireland, which operates a homeless and drug services network across the country, have stated numbers of steroid users are increasing.
Mark Kennedy, the head of day services at Merchants Quay said: "Over 11% of males using our needle exchange service were using steroids as a primary drug, up from 7% in 2008. They are aged mainly 18-30 and were not in the typical demographic of those using needle exchanges, which tended to be homeless drug users, instead they have jobs, an education and homes," he said.
A local GP based on Cork, named Dr John Sheehan, also echoed the increasing problems steroid usage is causing: "I will be asking what the HSE is going to do in terms of educating young people about the risks associated with the use of anabolic steroids. I have seen people using them become very aggressive. We need a public health awareness campaign and efforts must be made to engage gym owners in the conversation," he claimed he would state at the HSE South Regional Health Forum next week.
Lorraine Nolan, chief executive, of The Health Products Regulatory Authority (HPRA), said it was " important for the public to realize that falsified medicines and medical devices pose a very significant risk to their health".
Source: http://www.irishexaminer.com/ireland/over-half-counterfeit-drugs-seized-were-anabolic-steroids-404190.html