The professional cyclist, Lance Armstrong, who took the top spot and seven separate Tour de France races has managed to settle is $100 million lawsuit by promising to pay the US government just $5 million to reach a resolution of the civil lawsuit. Having won the Tour de France race 7 times, Armstrong had all of his titles stripped due to doping violations. This undoubtedly is a fantastic result for the professional cyclist as if it's saving him a small fortune.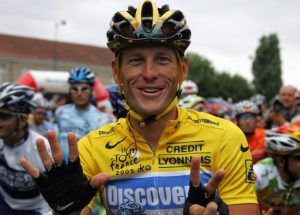 The federal prosecutors involved in the case tried their best to convince the public that the settlement was a victory of sorts. However, if it was a victory, then it was one that was extremely Hollow and despite all of the media's efforts to sensationalize, it was clear to see who the real winners and losers really were. The tiny settlement was not what the government was hoping to receive as they set out to claim damages of $100 million. The real winner in all of it was Lance Armstrong, who would have seen his net worth of $50 million disappear in front of his eyes had the government won their case. The conclusion allows Armstrong to carry on with his life while retaining his status as one of the wealthiest professional cyclists around.
According to Chad Readler, who was the acting Assistant Attorney General made it clear that Armstrong's settlement surf to prove that he was held legally accountable and that he was not above the law. In reality, the meager settlement only serves to prove the opposite. He continued by stating that any competitor who uses illegal performance-enhancing drugs intentionally is not only deceiving his competitors, but also his fans and sponsors who all help make the sporting competition a possibility. He added that the $5 million settlement shows that individuals will be held accountable when trying to cheat the government.
During his statement, Readler failed to note that Armstrong had not once admitted to defrauding the United States government and that it was unfair and without merit. Nor did he make it clear that no judge or jury had ruled that he had done so. The Whistleblower lawsuit gained the attention of the United States government after it connected a false claims Act, which was filed by F. Landis. The provisions of the ACT allowed Armstrong to be sued by Landis on behalf of the government.
The allegations thrown at Armstrong by Landis claimed that he had acted fraudulently by accepting sponsorship supporting the Pro cycling team of the United States Postal Service. The fraud came as a result of Armstrong's admission to using anabolic steroids, blood doping, and erythropoietin. These are a violation of the sponsorship contract from the USPS. Not only was he accused of fraudulent behavior against the US government for doping but also because he had attempted to conceal it and cover it up.
Unsurprisingly, the government's efforts failed as they were unable to prove their case and get Armstrong to admit to the accusations. The small settlement of $5 million May cover the costs incurred by the government during the trial. One of the main winners of the outcome is Landis who will receive just over $1 million, which is 22% of the settlement along with his legal costs of $1.6 million being covered by Armstrong.
Federal prosecutors had hoped to file criminal charges against Armstrong in the near future but embarrassment surrounding other similar cases have made them err on the side of caution and stop its investigations. While the government claims to have one of victory, it is one of embarrassing proportions and has undoubtedly taught them a lesson.
Source: https://www.theguardian.com/sport/2018/apr/19/lance-armstrong-settlement-usps-lawsuit
Biomedical Science Graduate. After completing the educational and research requirements for a PhD in Biomedical Science, Dan is currently studying at York University in Toronto, Ontario, Canada and has less than a year before joining the Medical Board becoming an MD and qualified Doctor. Dan's educational emphasis is on performance enhancement drugs (PEDs), endocrinology, nutritional supplements and strategies for health, fat reduction, anti-ageing, muscle growth, disease control and vaccinations. Dan has had an interest in learning and writing about steroid use for over 15 years.