A rugby player from South Africa, Brandon Staples who plays as part of the Yorkshire Carnegie Rugby Football Club located in Leeds, United Kingdom, made claims that MuscleTech Nitro Tech is contaminated with anabolic steroids and the whey protein shake he was using was the reason as to why he failed a drug test. The anti-doping test revealed that the player did not only have one anabolic steroid in his system but three, which were Oral Turinabol, Dianabol, and Winstrol.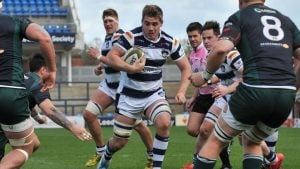 The King's College accredited Laboratory of London performed analysis on the urine samples collected during out of competition training. The sample was collected on the 9th of August 2017 and showed that his system contained 6β-hdehydrochloromethyltestosterone, 17 epi-methandienone, dehydrochlormethyltestosterone, 6β-hydroxy methandienone and stanozolol glucuronide. In the world of bodybuilding and competitive Sports, they are known as Winstrol, Dianabol and oral turinabol all anabolic steroids used for performance-enhancing purposes.
The UKAD (United Kingdom anti-doping) Dave Staples a suspension for a period of four years as part of his punishment for a first-time offense. Staples went on to appeal the suspension by insisting that he had never knowingly taken any anabolic steroids or any other type of prohibited performance-enhancing drug to further his career. The United Kingdom anti-doping maintains its stance of liability, where athletes are completely responsible for any banned substances found in that system, irrelevant whether they knowingly or unknowingly used it.
While this is the case, they also permit A reduced suspension if the individual can prove that they had not intentionally used a prohibited substance. Staples explained that he had been using a protein shake that was contaminated with Winstrol, Turinabol and Dianabol while he was in South Africa for a period of three weeks between May and June 2017. He made it clear that he had procured the Shake in Durban, South Africa at the xtreme nutrition shop. The shop, which is situated in Westwood Mall sold him the Nitro Tech Shake, which is manufactured and produced by MuscleTech.
To be able to receive a reduced suspension coma he was required to satisfy UK anti-doping by proving 3 different things. The first thing to fulfill was to prove that he had purchased the nutritional Shake without any cause to believe that it was contaminated or would lead to an anti-doping rule violation. Secondly, he had to prove that the nutritional Shake have not listed the prohibited substances on the ingredients list. Thirdly, he had to show that the nitro tech protein shake had resulted in the positive steroid result 7 weeks after consuming it.
Unfortunately, he did not fulfill any of these three conditions nor did he have any documentary evidence that he had purchased the nutritional shake in the first place. He also failed to produce any evidence which would have proved the product to be contaminated with the three anabolic steroids. He also lacked an expert testimony that would show the shake had resulted in the steroid levels found in his urine. Ultimately, they sport resolutions National anti-doping Tribunal decided to rule against him.
They did not dispute his allegations and decided to rule against him because he lacked they required evidence to fully back up his case. Unfortunately, it can sometimes be almost impossible to prove whether a product was contaminated or not, especially if the original packaging has been disposed of. This is a very steep learning curve for the young player and should serve as a warning to any authors who use nutritional supplements without first knowing the full content list.
Source: https://www.eurosport.com/rugby/yorkshire-carnegie-s-staples-gets-four-year-doping-ban_sto6718080/story.shtml