A mixed martial arts athlete, Ben Rothwell, who competes as part of the UFC heavyweight division has being handed down a suspension for a period of two years after a positive test result for the presence of anabolic steroids of an extra generous nature, which were discovered as part of an out of competition urine sample collected in February 2017, further analysis of the sample discovered that the steroid in his system was noted as being testosterone.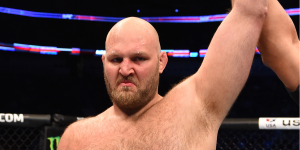 The USADA (United States Anti-Doping Agency) discovered evidence of testosterone off an exit generous nature Epping used when his sample gave a testosterone-epitestosterone ratio that was elevated. For it to be absolutely proven that testosterone help being injected or administered artificially instead of being produced naturally inside the body, a carbon isotope ratio analysis was ordered, which confirmed that exogenous testosterone had been used. When the anti-doping test results were released, Rothwell made no effort in disputing the results and admit it to have been using testosterone as part of his testosterone replacement therapy, which was overseen and prescribed by his doctor.
Roswell submitted his recent medical records voluntarily to the USADA as part of the effort to prove his innocence and that his use of testosterone was purely as part of a treatment plan for treating a genuine medical condition. He was placed on testosterone replacement therapy after a car accident in 1999 that left him with a severe head trauma, which ultimately resulted in hypogonadism or low testosterone levels. Rothwell took to Facebook and wrote a post in March 2017 stating that he had been under the care of his physician and was trying to treat a medical illness. He followed on by saying that he would like the chance to show that he had not cheated and he had no intentions of doing so, he urged his followers to keep their opinions of him to themselves until all of the facts were released, he finished by thanking everyone for their support as he went through the process with the United States anti drug doping agency.
While he had tried his hardest to work with the United States anti-doping agency, this ultimately had no beneficial effect on his penalty. The USADA came to the conclusion that the testosterone replacement therapy that Rothwell have been using was not legitimately prescribed or necessary according to the outlines make clear in the UFC anti-doping policies. In essence, they rejected the treatment plan and diagnosis that happened confirmed invalidated by the personal medical physician of Rothwell. In May 2017, he was due to fight Fabricio Werdum, that this was canceled after the positive testosterone result came to light.
His suspension of two years began in February 2017, and since this time it has been reported that Rothwell has now retired from the sport. Regardless of the fact as to whether he has officially retired from the sport or not, he will need to provide urine samples on an ongoing basis as part of the testing pool for USADA should he wish to receive any credit after successfully finishing his suspension. While there are rules and criteria put in place to protect the sport and maintain its integrity, there comes a time when it may be oversteps the mark by overlooking a valid diagnosis of hypogonadism that requires the treatment of exogenous testosterone. For this reason, many a career could be finished due to personal medical circumstances out of the players control, which could place down on the policies of the USADA.
Source: https://www.mmafighting.com/2018/4/6/17208132/ben-rothwell-accepts-two-year-usada-sanction-for-failed-drug-test