UGL stands for underground lab and a lot of people get steroids from UGLs. Those who run UGLs in America are breaking the law, as are customers who buy steroids from these underground labs. On the 16th of August, 2017, a woman named Brittany Baker, who lives in Venice, California, stood before a District Court Judge and pleaded guilty to participating in a steroid UGL.
The underground lab was known as Power Trip. She pleaded guilty to a single count of conspiracy to make and distribute steroids (which are Schedule III controlled substances). The Judge for the case is named Gregory Kays.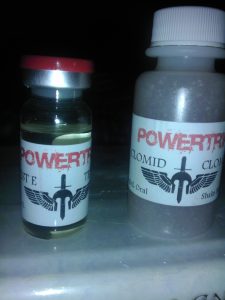 Baker joined Power Trip very early on. She worked for the lab's founder, Aaron Schweidler, when he began to put his shop together in Utah state. The creation of the shop started in December of 2011. Baker didn't manufacture the anabolic steroids herself. Instead, she gathered money from clients, moved the customer's money into a range of bank accounts and transferred funds to suppliers in China (who sell raw steroid powder to Power Trip and other underground labs). She would also drop off packages via USPS (United States Postal Service).
Brittany Baker permitted her personal accounts to be used in order to gather and transfer Power Trip UGL profits. She had bank accounts at many different financial institutions, including PayPal, Green Dot, US Bank and Bancorp. She would get customer monies and move them into her Bancorp and Green Dot accounts. The totals between both accounts were thirty thousand dollars. As well, she would put another thirty-five thousand dollars from customers into her own PayPal account.
In addition, she transferred nine thousand dollars (and possibly more) through Western Union. The transfers paid for raw steroid powder from Chinese sources. The product ordered from China is known as raw testosterone propionate. According to investigators, over four thousand vials of this injectable form of testosterone were produced. There was one hundred milligrams of the anabolic steroid per milliliter.
Vials sold for twenty-five bucks a pop. According to law enforcement personnel, Brittany Baker is responsible for over one hundred thousand dollars' worth of illegal business, based on her purchase of the raw steroid powder from China.
Baker was a willing participant in the Power Trip steroid UGL scheme. She followed when Schweidler made the decision to move his underground lab from Utah to the state of North Carolina. It's believed that he was attempting to evade police via the move. Baker made good money for what she did. She received a percentage of profits from the sale of Power Trip products and also got flat fees when she sent off packages via USPS.
However, Schweidler later decided to move again. This time, he would move cross-country. Baker didn't want to go with him this time. She was trying to create distance between herself and the lab (and Schweidler). These events took place in 2012. Schweidler decided to try his luck in Kansas City. He moved there, and moved his lab there, during June of 2013.
Schweidler Found Another Partner in Crime
While in Kansas City, Schweidler dated a woman called Nicole Lyne, who became a new accomplice in his illegal business dealings. He met her online, via his digital dating profile. Then, she decided to rent a home in the city and let her new partner and his helpers use it as a secret lab for steroid production. As well, she let him utilize her other home in Missouri (in the city of Weston) for the same purpose.
Baker didn't really spend a lot of time working for Power Trip UGL. However, she did a lot of illegal things in that time period which could be traced back to her. Power Trip was one of the key steroid sources in America for about four years.
At this stage, Baker is awaiting sentencing for her role in the company's activities. She may get up to ten years in prison. The founder of the lab, Schweider, received a four year sentence and his main partner in the UGL, Michael Peters, got a three year sentence. Lyne got off easier, with five years of probation.