CAS is the Court of Arbitration for Sport. It's the most elite sports tribunal and its officials have released information about a couple of lifetime bans. The bans impact the athletic careers of two Russian athletes, both of whom are very well-known. As well, CAS released details about another lifetime ban.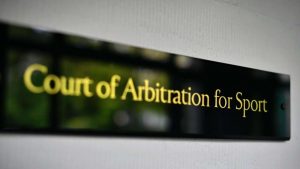 This third lifetime ban is a bit different. It's meant to punish the son of a former president of IAAF (International Association of Athletics Federation). This former president's son is being penalized for staging a cover-up which related to a positive drugs test for a female athlete. The son of the former IAAF president went on to blackmail the female athlete.
In January of 2016, the ethics panel for the global governing body for sport enforced a ban on a former leader of the athletics federation in Russia. The banned person is named Valentin Balakhnichev. As well, Alexei Melnikov, who was once a coach for long-distance running, received a ban, as did Papa Massata Diack, who used to work as a marketing consultant for the IAFF.
There is actually an arrest warrant out for Papa Massata Diack. The arrest warrant is international. At present, authorities believe that Diack is on the lam in Senegal, which is his home country. French authorities want to interrogate him about his role in a corruption case which relates to doping by Russian athletes, as well as blackmail. Lamine Diack is believed to have extorted over one million dollars via the blackmail of athletes…and for covering up their positive drugs tests.
The trio of banned persons have declared their innocence and all three have appealed via the CAS. A former ARAF leader (the now-banned Balankhnichev) is very upset about the ban and he said that he didn't hold out much hope for a reversal after appeal. In his view, the legal outcome was anticipated and he also remarked that the current system for sports bans and other penalties is the equivalent of "rubbish". In his opinion, the decision was not lawful or fair.
Lifetime Bans are Serious Punishment
The Court of Arbitration for Sport indicated that the Ethics Commission, which was behind the IAAF decision to ban the three individuals, had a very strong case. All three men will be banned forever from taking part in athletics. As well, the Court of Arbitration announced that charges brought against the three were proved conclusively.
Later on, it's expected that the full reasoning behind the verdict will be released to the public and media.
A large-scale doping scandal with Russian roots resulted in a host of Russian athletes (dozens) being banned from participation in the 2016 Olympic Games in Rio. It's still unfolding and the new lifetime bans are a part of the resolution of this huge doping ring.
Sanctions Were Laid Down
Liliya Shobukhova, who won the London marathon, was subject to sanctions due to her positive tests for banned substances. She is Russian and she spent six hundred thousand dollars in order to have her positive tests for doping covered up. She was a winner in many marathons, in London, Chicago and Boston. Now, she has become a whistle-blower.
The case via IAAF happened due to a report which was compiled by a German broadcasting company known as ARD. The report alleged that the female marathon runner gave five hundred and thirty thousand dollars to Russian higher-ups after she was threatened by them. They told her she'd be banned before the London Olympics in 2012 if she didn't pay what they asked.
Her spouse got three hundred and thirty-five thousand dollars as a refund. The refund was transferred from Singapore and the account was connected to Papa Massata Diack. It's believed that the refund was given because Shobukhova did get banned for a couple of years, starting in 2014.