According to the executive director of the CSAC (California State Athletic Commission), the recent steroid bust of UFC champion, Jon Jones, is pretty bizarre. The executive director thinks that the positive result for a banned, performance-enhancing substance is a positive result which makes little sense! If you're also wondering why an athlete of this caliber tested positive for Turinabol, despite knowing all of the testing protocol, you're one of countless people who are a bit confused.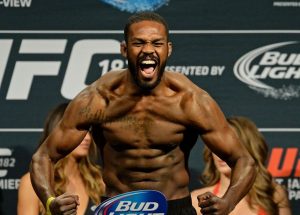 In the seven days following the public announcement of the positive test result, everyone has been talking about this positive test result! It was a test of the "in competition" type, which was administered to Jon Jones just one day before he was scheduled to fight Daniel Cormier. The day after the test, Jones knocked out Cormier during UFC 214.
One MMA coach from Jackson Wink MMA Academy felt that the positive test result for an anabolic steroid was a setup. The agent of Jon Jones chimed in by saying that a supplement may be to blame! Jones' agent is named Malki Kawa.
Lots of other people have also shared opinions about the positive test result for Turinabol. Some feel that Jones may have intended to take another form of performance-enhancer, but slipped up and used Turinabol instead. The possibility of someone giving him the wrong performance-enhancer has been discussed on and offline.
Learn About Jones' Mysterious Tweet
Seven days after he failed his second drugs test, Joe Jones decided to share a tweet which was more than a little cryptic. He alluded to some troubles and the fact that they made him realize how full of blessings his life is. He expressed gratitude.
To date, Jones hasn't come forward to explain why he was able to pass a couple of drug tests on the 6th and 7th of July, for MMA (his record is 23 wins and 1 loss) and UFC (he's won 17 matches and lost just 1 of them). People are confused as to why he would start utilizing a brand-new performance enhancer which is banned when he had another big fight on the horizon. Also, people are wondering why he'd begin dabbling with a new pre-fight "turbo charge" of the fast-acting type at that specific time, right before the next fight, when he surely realized he would be tested.
Lots of people are perplexed by the failed drug test result. Plenty of people who analyze failed test results for banned performance enhancers are totally confused and one of them is the California State Athletic Commission's leader, Andy Foster.
He's the executive director and he thinks it's all nonsensical. One theory which is making the rounds is that the steroid that Jones was busted for (Turinabol) wasn't something that was tested for by the USADA in the past. This just isn't true. The anti-doping agency has been testing for it for a long time now. Foster knows that that banned substance is going to show up in a panel for steroid detection if the athlete has it onboard. Since Jones didn't test positive for Turinabol on the 6th and 7th of July, and then did test positive for it at a test held after the weigh-in, right before the right, it seems like Jones' suddenly decided to use the steroid at a very strange moment!
Cormier doesn't have too much to say about the drug test result of his nemesis. He doesn't know what to think at this point.
Foster believes that Jones is allowed to undergo due process. This means that his second sample (known as a "B" sample) will be reviewed carefully and tested for Turinabol and other banned substances. If the "B" sample also shows Tbol, it won't look good for Jones.
Foster feels that Jones is one of two things. He's either a cheating athlete or a very careless individual. Jones did fail another drug test in the past, so there is precedent when it comes to viewing him as a cheater. However, the timing of things, with regard to this latest drug bust, is definitely strange.
A group of five attorneys are now handling the Jones case. This data comes from Foster. If the "B" sample shows a positive result, a suspension will likely occur. Jones will need to ask for an appeal before he may get a hearing. If there is an appeal, Foster says that it will probably happen on the 17th of October, 2017.
So, what will happen to Jones if the "B" sample does show Turinabol? Well, a four-year suspension is a possibility. Also, the CSAC will impose a penalty on top of the suspension. The CSAC penalty might be pretty serious, as it might impact the license that Jones has, which allows him to participate in UFC competitions.