Jon Jones was busted for anabolic steroid usage at UFC 214. He's the light heavyweight champion for UFC and he was informed of the positive drugs test result by the United States Anti-Doping Agency. The agency provides information about the test result via its official website.
Jones has an excellent win-loss record. It's hard to say how his record, which features twenty-three wins and just one loss for MMA (and seventeen wins and one loss for UFC), is due to anabolic steroid usage.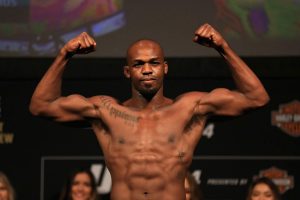 According to the UFC, this violation stems from a sample which was collected after weigh-ins for his fight against Daniel Cormier. Cormier also has strong win-loss stats. He's won nineteen of his MMA fights and lost just two of them. For UFC, his win-loss record is eight wins versus two losses. In the fight in question, Jon Jones got his belt back by knocking out Cormier in round three.
Test results show that Jones had Turinabol in his blood. It's an anabolic steroid which was the drug of choice of East German athletes (who were given the steroid via a state-sponsored program) during the 70s and 80s.
Jones tested positive for steroids once before, so failing drug tests isn't a new thing for him. He was busted for steroid usage after UFC 200 and had his interim belt taken away before a title unifier match against Cormier. Also, he had a positive test result for the recreational drug, cocaine, while he was out of competition, after his initial win against Cormier, during UFC 182.
The cocaine violation led to a fine from UFC. He was fined for breaking the league's Code of Conduct. After the first steroid bust, he faced the possibility of being banned from competition for twelve months. However, an arbitrator from USADA decided that Jones didn't dope on purpose. The arbitrator stated that Joe Jones took a sexual enhancement formula before UFC 200 and that he tested positive due to negligence.
Jones plead guilty to the first steroids charge and he got probation, as a result of his willingness to do speaking engagements.
Will Jones Be Banned for Four Years?
It's possible that Joe Jones will receive a 4-year ban, as this isn't his first offense. Many believe that this new positive steroid result will end his fighting career.
Jones is perceived by most to be the strongest fighter in UFC/MMA. For the past month, Jones has strongly denied utilizing PEDs (performance-enhancing drugs). At this point, it's likely that his light heavyweight title will be taken away for the 2nd time.
The president of UFC, Dana White, commented that Cormier kept the belt for most of Jones' absence from competition. He feels Cormier will continue to dominate in the sport. White remarked that Jones and Cormier have been feuding since UFC 200.
Jones' Manager is Disappointed
Malki Kawa manages Joe Jones and he's currently absorbing news about the failed test result. He is "at a loss for words". The Jon Jones team includes nutritionists, trainers and many other helpers. The whole team has dedicated plenty of hard work to pushing Jones forward and making him the best fighter possible. The statement released by his team indicates that the team will wait for another test result from the sample which got Jones busted. Jones is apparently very upset over the news.
Cormier has weighed in on the new test result. He indicated that he's quite emotional about Jones' failed drug test and that he feels disappointed. Cormier is currently on holiday in Hawaii.