Dirty cops aren't just movie characters. There are rogue cops in real life and one of these dirty cops is Evan Speck. He created a company called TabMan Pharmaceuticals, which sold its illegal products via the Web. It's safe to say that most people who purchased anabolic steroids from the TabMan Pharma website didn't think that they were buying them from a Charlestown Police Department (CPD) cop!
Evan Speck wasn't trying to bust people for steroids. This wasn't a sting operation intended to punish steroid users. Instead, it was a side business which Speck ran purely for profit.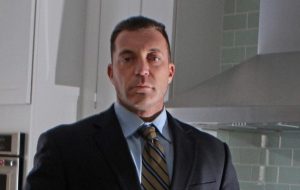 When Evan got busted, he'd been a cop with his Rhode Island-based police department for eleven years. He also lifted heavy in order to compete as a bodybuilder. He was a participant in a lot of "physique division" competitions which were run under the official permission of the National Physique Committee (NPC for short).
Speck was a steroid expert. He knew all about anabolic steroids and was also well-versed on how to utilize other types of performance enhancers, such as muscle-building agents and ancillary medications. During the start of 2015, Speck decided to move away from being a typical steroid user and become a maker and seller of illegal steroids.
Speck Got Business Through a Message Board
Speck found most of his clients in a low-key manner, via the AnabolicBoard message board, which is a members-only website. He called his new enterprise, "TabMan Pharmaceuticals" and began to do good business. He was a private source, due to the way that he promoted his steroids. However, there were plenty of members at AnabolicBoard who wanted what he had to offer.
He sold over five hundred thousand bucks' worth of anabolic steroids in only fifteen months. He managed to stay in business from the start of 2015 to the 20th of March in 2017.
People Loved TabMan Pharma
This company earned accolades because Speck offered a host of oral steroids. They came in pressed pill form and this means no painful injections. As well, he offered drugs which were pretty hard to get from other underground labs. For example, he sold Halotestin, Superdrol, Primobolan, M1T, Modafinil, Phentermine and Accutane.
Speck Got Busted Fairly Quickly
Considering he only advertised his wares via the message board, it's sort of surprising that Speck wasn't able to keep his business running for longer. It's safe to say that his experience as a police officer led him to take fewer risks than most. For example, he was stealthy about how he transferred money. He used fake ID in order to receive payments under a false name (payment came in via Western Union). As well, he used aliases in order to send money to his suppliers in China, who sold him raw steroid powder.
Speck also utilized the digital cryptocurrency, Bitcoin, in order to quietly purchase materials and sell products.
While he did a lot to stay undetected, it clearly wasn't enough. He was arrested by Rhode Island's FDA Office. A task force for criminal investigations from that office investigated his activities. The task force was a big operation and it included personnel from an array of federal offices. For example, agents from HSI, DEA, IRS and FDA were involved, as well as personnel from police departments in Westerly, North Providence and Rhode Island.
At present, it's not known how Speck's lucrative sideline became the subject of interest from law enforcement agencies. Some people believe that Speck's lawsuit again higher-ups at his own police station triggered a deeper look into his life.
Speck allegedly suffers from ADHD and he sued three parties (the Charlestown police chief, Jeffrey Allen, the Town of Charlestown and Michael Paliotta, a police lieutenant in Charlestown) because he believed that he was being discriminated against due to his disability. As well, he allegedly suffers from PSTD and felt that he was discriminated against for this as well. There is an Americans with Disabilities Act and Speck felt that treatment he received from work superiors violated the Act.
In response, the Town of Charleson felt that Speck's disabilities were in question, as he competed in a range of bodybuilding competition all around America during times when he claimed to need time off work due to his disability. Perhaps this investigation led to the discovery of the steroid business.
Speck was fired and he now faces a whopping thirty-three year prison sentence, if the judge decides to give him maximum time behind bars. As well, he may get a fine of up to half a million dollars. He'll be selling everything is owns in order to pay up.