A man named Ryan Root got six and a half years in prison because he was the leader of America's biggest national UGL (underground lab). He was busted via Operation Cyber Juice, which was carried out by the Drug Enforcement Agency, or DEA. Root received his sentence from a District Court Judge named Thomas McAvoy. The sentence was announced on the 4th of August, 2017 to 6.5 years in prison.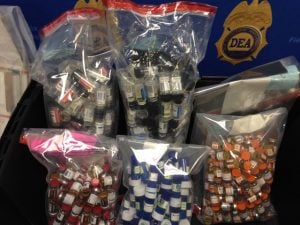 Ryan Root Entered a Guilty Plea
In court, in November of 2016, Ryan Root entered a guilty plea on the following charges: international money laundering and conspiracy to possess with intent to distribute anabolic steroids. He confessed to buying big amounts of raw-type steroid powder, via suppliers in China, during a period which began in January of 2011 and ended in September of 2015. The conspiracy operated out of Broome County and involved nine other people, who were co-defendants in the conspiracy case. The other co-defendants assisted Root with receiving raw steroid powder via China and with making wire transfers which were coordinated through Western Union.
The raw powder was converted to steroid products which were marketed and sold via a website. Orders were received through the Web and packages of finished steroid powders were shipped out to clients all over the USA. The UGL in Broome County closed shop on the 23rd of September, 2015, when law enforcement employees presented search and arrest warrants to all defendants in the case.
Initially, Ryan Root stood to spend up to two decades behind bars. However, he made a plea agreement and part of it stipulated that he would sell a trio of houses in Broome County in order to pay for a forfeiture money judgment of $2.5m USD. He also agreed to pay more on the money judgment once he got out of prison. Bankruptcy may not be used in order to avoid paying the forfeiture judgment.
Root Received a Long Sentence
Ryan Root's sentence is long when compared to sentences for similar offenses in America. His co-defendants received shorter sentences. Some of them were sentenced to "time served" and others got by with probation only.
It's possible that the District Court Judge was rough on Ryan Root because he recruited those who were naive. In the eyes of prosecutors, he took advantage of people by deceiving them into thinking that they were assisting him with the sale of dietary supplements, rather than illegal anabolic steroids.
The judge stated that the co-defendants do need to assume responsibility and that they have assumed this responsibility. The judge criticized Root for getting naive people involved in his illegal steroid lab and e-commerce website, as the judge feels that Root was able to boost profits and gain bargaining power by offering them less money than he would have needed to pay those who were aware of the illegality of what they were doing.
The co-defendants, excepting Root, were not paid much for their efforts and Root kept most of the profits. One example is the twenty cents per milliliter of steroid injectables that his chemist received. Shippers got just a few bucks for shipping the illegal packages. Sixty dollars was the maximum that he paid in order to get Western Union transfers to China and fifty bucks was the amount that he paid in order to receive raw steroid powders (also from China). Some co-defendants didn't get paid in cash. Instead, they were paid in steroids.
Clearly, the judge found Root's conduct wrong on many levels and therefore chose to give him a stiff sentence that sent a strong message to other UGL operators. Now, it's time for Root to serve his lengthy prison sentence.