After completing a retest of Summer Olympic 2012 doping samples, the International Olympic Committee (IOC) has suspended three Russian track and field athletes.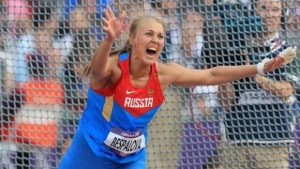 Judgement has been passed on Gulfia Khanafeyeva, Viktoria Valyukevich, and Maria Bespalova, according to the All-Russia Athletics Federation.
After both Bespalova and Khanafeeva tested positive, this now means that all 3 Russian female hammer throwing 2012 Olympians have been disqualified. Tatyana Lysenko likewise, had her October gold medal taken from her after testing positive.
Khanafeyeva is no stranger to violating a doping offence. This will be her third time having been found guilty. After her current offense, she has been found guilty both in 2002 and 2008 as well. During her 2008 ordeal, she attempted to submit somebody else's urine during her test. At the moment Bespalova is in the midst of a 4 year ban after failing a 2015 doping test.
Varas has not specified what banned substance was found upon reanalysis of the urine submissions. The exact suspension dates have yet to be announced by the commission.
The International Olympic Committee has ordered the all urine samples from the 2008 games in Beijing and the 2012 games in London be reanalysed. This was done so after a series of meetings held by the IOC executive board, where it was announced that they would be more vigilant in cracking down on the use of illegal drugs. They are doing so partly, in an effort to protect clean athletes before the arrival of The Rio Olympics. 38 people from the 2012 and 60 from the 2008 Olympic Games were found to have dirty submissions up on reanalysis. Among the 98 found guilty, 23 of them were former medallists. The scope of the total amount of retests included 1243 urine submissions. 19 Russian medals between the 2008 and 2012 Summer Olympic Games have been declared invalid. Between 2008, 2012, and 2016, a total of 25 medals have been revoked from Russian athletes.
Not long ago The World Anti-Doping Agency claimed that not only was doping widespread among Russian athletes, but that it was state-sponsored. The report alone prevented many Russian athletes from being able to participate in various international competitions. The 2016 Summer Paralympics and the 2018 Winter Olympic games were two of those events.
Since the ioc's resolution to retest former urine samples, the Russians have proved to be the group with the most failed submissions. Thus far, they have over 30 failed reanalyses. Turinabol seems to be the most prevalent anabolic steroid that comes up.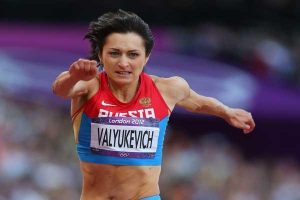 What is commonly considered a crime and sports, seems to be an issue among the Russian athletic community. The Levada Center did a poll among ordinary Russian citizens that resulted in 14% of them believing that their nation's athletes we're actively doping. Russia nearly triples the runner-up nation's amount of Olympic medals revoked due to doping. The majority of these cases, or at least a solid chunk of them, seem to arise from track and field athletes. The issue has become so prevalent, that the International Association of Athletics Federation has permanently cancelled Russian track and field athletes from competing in world events.
The world anti-doping agency (WADA) regards Russia as all together non-compliant insofar as their attitude toward anti-doping regulations. They have even gone so far as to say that Russia should not be allowed to compete in the 2016 Olympics. The Olympic commission however refused, believing that individual athletes should be judged on a personal basis rather than casting out an entire country from competing in the Olympic Games. Perhaps due to a loss of medals and talent in Russia's track and field line-up, they will reconsider their approach toward the anti-doping rules established.