After being flagged by the United States Anti Doping Agency (USADA) for a potential violation in November, Ultimate Fighting Championship veteran "Filthy" Tom Lawlor has received a two year suspension from the UFC's anti doping partner.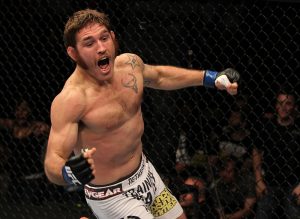 Retroactive to the date the tainted sample was collected — October 10, 2016 — Lawlor's suspension will last until October 11, 2018, a period of inactivity that has many wondering if we have seen the last of the 33 year old fighter. He most recently competed in the octagon in March, 2016, dropping a decision ruling to touted prospect Corey Anderson on the undercard of UFC 196.
Known primarily for his run on The Ultimate Fighter: Season 8, Lawlor lost in the first round of the reality show to eventual winner Ryan Bader. His antics and natural charisma shined through on the show, making him a popular figure. He was given a chance on the undercard of The Ultimate Fighter Season 8 Finale, where he defeated cast mate Kyle Kingsbury via unanimous decision. He would win three Performance of the Night bonuses, including a submission win on the historic UFC 100 card, en route to amassing a 10-6-1 professional record.
Lawlor's sample was flagged for Ostarine, defined as a prohibited Anabolic Agent by the UFC Anti Doping Policy and World Anti Doping Agency Prohibited List. It is clinically used to strengthen and repair muscles and bones in patients suffering from atrophy or osteoporosis.
Ostarine is a selective androgen receptor modulator (SARM) that is known by Enobosarm and MK-2866. It is proving to be a common problem, as 170-pound UFC competitor Tim "The Dirty Bird" Means was flagged for the same substance in 2016. The United States Food and Drug Administration has issued warning letters to several supplement manufacturers to warn them it is an unapproved drug that is in violation of the Federal Food, Drug, and Cosmetic act.
Means was found to have ingested the substance in a supplement that had not declared the ingredient. As this was his first offense, he was suspended for just six months following a case that went to arbitration. He had been on a two fight win streak before his suspension — he has yet to taste victory since.
Carlos Diego Ferreira has also violated UFC policy due to the substance. After he was flagged for Ostarine, he was suspended for one year. He'll be eligible to return April 30, 2017.
Surging UFC middleweight contender Yoel "Soldier of God" Romero has also seen his name in the headlines for the wrong reasons after scoring the biggest win of his career to date at UFC 194 when he earned a split decision verdict over Ronaldo "Jacare" Souza in December, 2015.
Just weeks later, Romero was informed of a violation due to the results from an out of competition USADA test. He was flagged for a banned growth hormone release stimulant, dashing his hopes at receiving a UFC title shot.
His management team fought hard against the ruling, and proved the growth hormone — ibutamoren — was ingested in a supplement that had not declared the ingredient on the product label by providing an unopened container of the supplement to an independent testing agency. Romero has since pursued legal action against the supplement company.
USADA Special Advisor on Drugs & Supplements Dr. Amy Eichner commented, "This case clearly demonstrates some of the dangers inherent to supplement use." Romero had been careless, and his reputation was tarnished as a result.
Dr. Eichner would continue, "When considering whether to incorporate supplements into a training plan, it is vitally important that athletes exercise the utmost care in order to avoid making a decision that could endanger their eligibility, reputation, or general health and wellness."