By Admin – Steroidal.com
UFC and WWE athlete Brock Lesnar has been banned again for one year after violating the UFC'c anti-doping rules.
Following the win over Mark Hunt, things haven't exactly being going well for Brock Lesnar. The former UFC heavyweight champion was stripped of his last UFC 200 win and was banned by the Nevada Athletic States Commission (NASC) and fined $250,000 by the UFC for using banned substances in the months leading to his bout.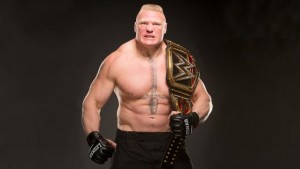 Now, Lesnar has been hit with anther suspension, after the United States Anti-Doping Agency (USADA) have punished him for using the selective estrogen receptor modulator (SERM) Clomid. Traces of the Clomid metabolite Hydroxy-Clomiphene were detected in his blood and urine samples.
Clomid is an anti-estrogen and anti-cancer drug, used for post cycle therapy (PCT) after an anabolic steroid cycle or testosterone replacement therapy (TRT). Due to Lesnar's massive frame, many speculated his was using performance enhancers or was on TRT.
Now Lesner looks set to announce his retirement. At 39-years old, even retiring wont end his one-year suspension with USADA. Now he's part of the drug offending pool of athletes, his punishment will be suspended even if he retires. Lesner is eligible to return to the UFC on July 15, 2017, one year after his initial USADA suspension begun.
The UFC faced criticism when it first allowed Lesnar an exception in PED testing leading up to UFC 200. After Dana White and Zuffa lost its highest drawing athletes in Conor Mcgregor, then Jon Jones to a failed PED violation, the UFC (its speculated) knew Brock would fail a PED test eliminating him from UFC 200. So they allowed his test results to be delayed and that he must be clean only 1 month prior to his matchup with Hunt.
Lesnar is now contracted with the WWE and will headline the Royal Rumble on Jan 29, 2017. WWE is not a tested sport, nor regulated by USADA by state drug policies. Seems like a safe option for Lesnar.
Source: http://www.bloodyelbow.com/2017/1/4/14169168/brock-lesnar-fight-ufc-200-usada-peds-steroids-clomiphene-clomid-serm-estrogen-mma-news