At the 2016 Rio de Janeiro Olympics, the then 30-year-old Jemima Sumgong – a long-distance runner from Kenya – achieved the pinnacle of this sport, recording a gold medal and beating out what many consider to be one of the most competitive Olympic fields in recent history.
Now, just three short years later, Sumgong has seen her original suspension after testing positive for anabolic steroids back in 2017 doubled and will not be able to compete in the sport again until she is over 40 years old.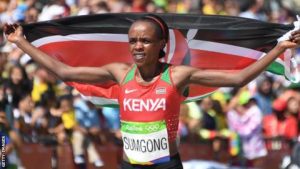 And it's all because she chose to falsify and lie about her medical records, trying to find a way to wiggle out of her initial performance-enhancing drugs suspension so that she could get back to competition.
Back in February 2017, Sumgong was found to have tested positive for synthetic EPO after providing a urine sample collected during an unannounced and out of competition test conducted by the IAAF.
Immediately after the preliminary results came back positive for EPO Sumgong admitted that she used these performance-enhancing drugs, though she stated that she had been administered EPO in the course of an emergency medical visit in February 2017 – just six days prior to having the unannounced test conducted.
Sumgong told investigators that she had suffered an ectopic pregnancy, a medical emergency that resulted in life-threatening hemorrhaging. Because she lost so much blood during the emergency she required a blood transfusion, at which point in time heard attending doctors allegedly ejected EPO into her bloodstream to better expedite her overall recovery.
Sumgong also provided IAAF investigators with five different official hospital documents that corroborated her entire account, documents that (at the time) were thought to have conclusively proven that she was telling the truth and that her positive EPO test was the result of a medical emergency and not because she was trying to gain a competitive advantage over other athletes.
Unfortunately for Sumgong, IAAF investigators decided to independently check out the legitimacy of these hospital records – standard par for the course kind of behavior by this organization – and they discovered that each of these documents were complete and total fabrication, forgeries that Sumgong herself was accused of concocting.
Instead of admitting to the fact that these documents were forgeries and that they didn't match up with the official records that have been maintained by the hospital itself, Sumgong decided to double down and insist that the record-keeping of these documents must have been altered during the medical professional strike occurring during her visit and that in "imposter" doctor must have been the one that treated her and injected her with the EPO.
Yes, you are reading that correctly. This world-class and gold medalist Olympic athlete is suggesting that a phony doctor was called in to help her during a serious medical emergency and decided to inject her with a performance-enhancing drug without recording it accurately in her records, and was able to do so because of some sort of medical professional uprising that was happening at the hospital during the same block of time.
Obviously, the Kenyatta Hospital over there the hospital of record) vigorously denies and rejects her claims and stands by the records that they have provided to the IAAF during the investigation.
One of the most accomplished marathon runners in history, Sumgong dominated at every level of competition well before she dominated at the Olympics. She won the 2006 Las Vegas Marathon, the 2011 Castel on Marathon, the 2013 Rotterdam Marathon, and the 2016 London Marathon.
On top of that, Sumgong also came in second during the 2012 Boston Marathon and the 2014 New York City Marathon, losing out by the slimmest of margins.
This eight year suspension effectively acts as a lifetime banishment from the competitive circuit. She continues to appeal suspension, however.
Source: https://www.theguardian.com/sport/2019/jan/25/olympic-marathon-champion-jemima-sumgong-doping-ban-doubled-kenya-