It's no secret in the athletic community that the people of Kenyan are absolutely dominant runners, some of the most accomplished and successful marathoners on the planet, and some of the most finely tuned athletes when it comes to these kinds of competitions.
Not only are these athletes unitedly predisposed to dominate in these events, but they also go through rigorous training that allows them to cultivate the kind of endurance and durability that a lot of other athletes do not.
Unfortunately, in the case of James Mwangi Wangari, it also appears as though some of them are taking advantage of anabolic steroids and other performance-enhancing drugs to gain an extra edge and advantage against athletes that have been trying to chase Kenyan runners for decades.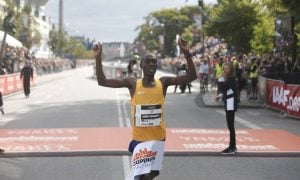 According to the Athletics Integrity Unit of the International Association of Athletics Federation's, Mwangi Wangari was found to have tested positive for using anabolic steroids and synthetic testosterone during in out of competition urine sample that had been collected in December 2018.
After the preliminary tests showed that the sample provided by Mwangi Wangari had been flagged "hot" for anabolic steroids it was furthered on to the World Anti-Doping Agency (WADA) which then sent the sample off to and approved in accredited laboratory that conducts carbon isotope ratio analysis.
This test conclusively proved and confirmed that the testosterone metabolites that had been discovered in the sample itself originated from an exogenous origin. The odds are definitely stacked against Mwangi Wangari as this shows that he was in fact taking advantage of outside sources of anabolic steroids and testosterone.
Just three short years ago, Mwangi Wangari exploded on the competitive distance running scene at the young age of 22 by dominating the competition. A number of major performances at regional, national, and international competitions showed him to be one of the brightest young stars in this sport, and on two different occasions Mwangi Wangari came ridiculously close to breaking the half marathon world record.
That world record sits at 58 minutes and 23 seconds come in the first time Mwangi Wangari almost broke and he came in with a time of 59 minutes and 12 seconds – recorded as the seventh fastest time in history. The second occasion was even better, with Mwangi Wangari competing at the Copenhagen Half Marathon of 2016 and finishing in at just 59 minutes and 7 seconds. Only two men in world history have run a half marathon faster than that.
At the time, Mwangi Wangari mentioned that he was in excellent shape, had been training specifically for these events more than anything else, and that he relied on his "wind" to allow him to have such a strong finish on the back half of that marathon. He said that the world should not be surprised if he was able to beat the record sooner rather than later, and that it was his ultimate goal.
Unfortunately, for one reason or another, Mwangi Wangari hasn't been able to beat his previous records – or the world record, for that matter. He continued to be one of the fastest man on the planet when it came to the half marathon, but his times had noticeably slowed. The most recent event that he participated in, the Lisbon Half Marathon of 2018 had him finish eighth. This came as a real shock to those that had been following the sport, as he hadn't come in anything below second or third in previous events.
After popping positive for this test Mwangi Wangari has been staring down a period of four years of ineligibility because of the doping violation. He is (like so many other athletes before him) obviously appealing the suspension, but so far things aren't looking great.
Source: http://thesportdiva.com/four-athletes-subject-to-recent-athletics-integrity-unit-proceedings/