It's a tale as old as time, but with a very interesting little wrinkle.
A nice woman finds herself falling for a bit of a bad boy, swayed by his charisma and his charm. The bad boy really lays it on thick and convinces a nice young lady to risk it all, and before you know it she finds herself in over her head – in more ways than one.
In this situation, however, the nice young lady was abusing her position as a prison employee to have intimate relationships with one of her prisoners that she oversaw while at the same time using her position to smuggle in steroids and other contraband to another.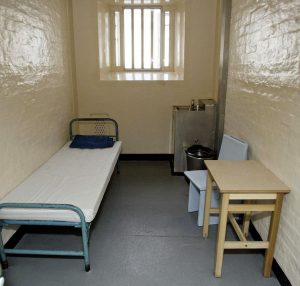 Ms. Gemma Farr, age 37, was employed as a 37-year-old occupational therapist at a local prison in Staffordshire in the United Kingdom. She had held her position at this facility for more than seven years, without any blemishes or blips on the radar on her employment record.
Today, however, she finds herself pleading guilty to the conspiracy smuggling contraband into the prison as well as the charges of misconduct in a public office when she carried on an intimate relationship with one of the prisoners that she was responsible for caring for.
Sure, this is the kind of story that you see popping up on something like Netflix every now and again – but this is very much real evidence against Farr is overwhelming.
Everything started to unravel for Farr after coworkers began to notice that she was spending a lot more time with one particular inmate at the facility. Rumors began to circulate about a possible intimate relationship between these two individuals, and the administrative staff decided to try and get out ahead of this issue if there was one in the first place.
Upon being questioned by the administrative staff about the affair, Farr apparently admitted that she had in fact fallen in love with a prisoner that was serving a sentence for convicted murderer. She also admitted to the fact that she was leaving the prison and then returning during the night shift hours of her time at work, and that she was actually smuggling in contraband for two different inmates including the one that she had fallen into a relationship with.
Farr openly admitted that she was hiding anabolic steroid pills and mobile phones in her underwear in an effort to smuggle the contraband into the facility, and that she abused her abilities to move freely throughout the prison as a part of the staff to distribute this contraband to inmates throughout the facilities.
Investigators requested her mobile phone records and discovered more than 1500 phone calls, text messages, and digital messages made between June 2017 and September 2017 that corroborated the entire story.
It turns out that Farr had been conspiring with an inmates by the name of Ricky Walsh to distribute anabolic steroids to prisoners throughout the facility. Walsh was the kingpin behind the drug distribution ring, running everything from the inside, and having Farr bring things in from a steroid dealer that he had been connected with before getting locked up.
Farr would go and meet this individual at local pubs outside of the prison, exchanging money from Walsh for the steroids and then smuggling them in while taking a cut of the proceeds. Walsh also had Farr connect with his girlfriend on the outside to launder the money effectively, getting her in even hotter water with the authorities once the full picture of this distribution ring was understood.
Farr is set to spend 32 months in prison. Walsh is expected to be sentenced at a later date, though he is already serving 10 years for armed robbery.
Source: https://news.sky.com/story/prison-officer-gemma-farr-jailed-after-smuggling-phones-and-steroids-in-her-underwear-11602770