According to the International Olympic Committee (the IOC), four-time Olympic champion Mo Farah has finally been cleared of all suspected doping charges after a false positive came up during his routine biological passport check.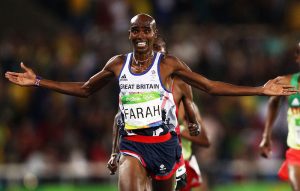 Mo Farah, by far the most successful British track athlete in the history of the modern Olympics, was caught up in IOC investigations going heavy into the 2012 and 2016 Olympic Games after almost the entire Russian team was discovered to have cheated using performance-enhancing drugs as had a number of other nations around the world.
This major investigation essentially checked the biological passports of nearly 70% of ALL Olympic athletes, with plans to inspect the remaining 30% before the next upcoming Olympics in 2020. Mo Farah had a positive test when compared to his biological passport information from 2010, and he was also listed in two different spreadsheets that were collected during the investigation into the Russian doping scandal.
Right out of the gate, however, Mo Farah denied that he had ever taken performance-enhancing drugs and also promised to do absolutely everything and anything he could in his power to prove his innocence. He offered to retake multiple tests, provide even more detailed biological passport information, and work hand-in-hand with the IOC investigators to clear his name.
Things got a little bit more complex and the outcome a bit darker for Mo Farah after a second database discovered during more in-depth investigations into the doping scandal had his contact information in it again. However, after the information was double checked and cross verified with independent sources and other databases collected during the investigation it was discovered that the information was added incorrectly and wasn't actually associated with Mo Farah at all.
Further PED testing conducted by the IOC conclusively proved that the biological information provided in the biological passport of Mo Farah was in line with expected standards and that there wasn't any evidence of performance-enhancing drug use at all. Mo Farah had his name cleared and his metals solidified, and thankfully none of the sponsors – including Nike – that had helped to support this athlete abandoned ship before the full investigation concluded.
As of right now, Mo Farah fully intends to compete in the upcoming 2020 Summer Olympics and hopes to become an even more decorated member of the British national track team. It'll be interesting to see if he has any more scrutiny placed on him after the false positive test, even though he has been cleared.