Shot Putter Darien Moore Tests Positive for Dianabol Metabolites at 2017 USATF Indoor Championships
One of the shot putting world's most exciting and charismatic champion – a man many thought would be gearing up to go for gold in the 2020 Summer Olympics – now finds himself on the outside of the sport that he dedicated his life to, all because of a positive test for performance-enhancing drugs.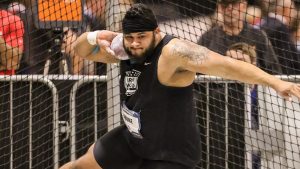 Darien Moore, age 25, was considered by many to be one of the odds on favorites to go for gold in the upcoming Olympics in the shotput event – but unfortunately now he will never have an opportunity to try because of this positive test.
The band that has been handed down to this athlete stretches out for four years, and the USADA (the anti-doping agency in the United States) has already stated that this athlete has accepted his punishment, will not go through the appeal process, and is expected to give up this sport forever – simply because at that time he will be 29 and no longer in the prime of his athletic prowess.
Another World Class Athlete Pops Positive
This is a relatively surprising turn of events for many that follow the sport, but certainly not the most surprising of events considering just how many world-class athletes have "popped positive" for these kinds of issues in just the past year.
The USADA is getting very, very serious about stamping out performance-enhancing drug use for all of the athletes that will be competing for the US in the Olympics, as are most every other major sports organization (amateur and professional) in the United States as well.
Moore Will Be Stripped of All His Previous Titles as Part of the Punishment
Not only is Moore going to miss out on competing for Olympic gold in 2020, but he's also going to find his past championships and past records stripped from him completely. Some feel that this is going a step too far, but others believe that only these kinds of incredibly strict and severe punishments will be able to act as a deterrent for future athletes to stay away from these kinds of performance-enhancing drugs such as Dianabol.
This athlete will also have to return any prize money that he has won throughout his career, including the $6000 that he had just won the USA Track and Field competition held earlier in the year.
It's unlikely that this will be the last instance of an Olympic athlete getting busted for performance-enhancing drugs, but hopefully it comes a lot less frequent of an occurrence in the future because of examples like this.