Blog Entry #12
By Admin – Steroidal.com
If you're an Anavar user and want to increase its bioavailability, making a smaller amount go that little bit further, or magnifying its muscle building effects at all – ingest it with a cup of coffee.
Researchers in Portugal have found something fairly interesting after steroid users in Portgul and Spain were convinced Anavar + caffeine was superior to Anavar alone. This information then led to a study being conducted on Oxandrolone's metabolites when consumed with caffeine.  The Portuguese researchers acting on behalf of a doping lab Laboratório de Análises de Dopagem consulted the literature.
Caffeine has been studied before about its ability to increase the uptake of certain drugs, notably Paracetamol in this study. So they curiously questioned if this effect would be evident in Oxandrolone (Anavar) users.
The Portuguese researchers gave 0.4mg of Oxandrolone to a subject who consumed three espressos per day. The caffeine content of one espresso is 64mg. For the next forty hours the subject was monitored for the amount of caffeine, Oxandrolone and the inactive Oxandrolone metabolite Epioxandrolone in their urine.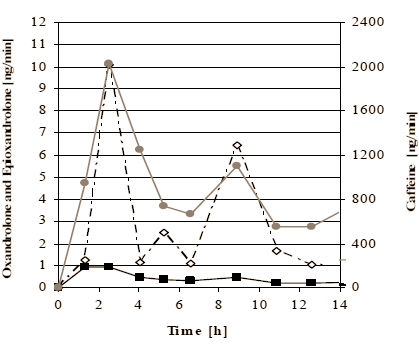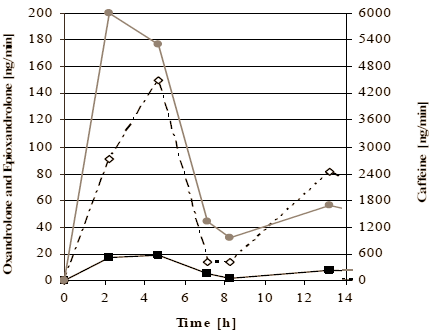 The experiment was then repeated giving the subject a larger caffeine dosage of 300mg in pill form.  The figure above shows that the amount of Oxandrolone and Epioxandrolone rose by a factor of 20 and 15 respectively making its effects more pronounced.
The researchers concluded that their experiment may show that caffeine causes a considerable improvement in the uptake of Oxandrolone by the body. "Practically this means that similar concentrations/effects may be achieved using lower dosages", they write. "Other anabolic steroids should also be investigated."
Limitations to this study were that it was done on only one subject.
Anavar is one of the most popular oral anabolic steroids ever used and is still used widely today, by both men and women. With a good safety profile and positive muscle building qualities and enhancing fat loss, its popularity is only going to grow. Anavar is also one of the most expensive anabolic steroids sold today, so consuming your daily Anavar dosage with a cup of coffee may enhance its effects. If you consume caffeine pre-workout in pill form, or as part of a supplement, add your daily Anavar dose to this for maximum effects.
Source: 
Laboratório de Análises de Dopagem, IDP, Lisboa, Portugal. B. Salema, J. Ruivo, X. de la Torre, M. Sekera, L. Horta. Oxandrolone excretion: effect of caffeine dosing. Published: www.adop.pt.