This is not the kind of story that we read about happening at the highest levels of sports and competition, that's for sure.
One of the elite members of the US national swim team, Amanda Kendall passed her anti-doping control protocols with absolutely no "blips on the radar" – the same way she had for a number of years, ever since beginning competition at the national team level.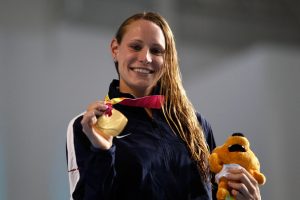 However, Amanda new that she had used a banned substance – a substance designed to help her control her asthma, but a banned substance all the same – and she chose to do the most honorable thing imaginable:
She came forward, admitted that she used a prohibited substance that has been classified as a Performance Enhancing Drug, and is accepting all responsibility for her actions.
Like we said, this is not something you see every day in the world of sports.
All Amanda had to do was stay quiet about her use of this banned substance (and obviously discontinue its use moving forward so that she wouldn't potentially pop positive in the future) and the odds are good that she wouldn't have had to deal with any repercussions whatsoever.
However, Amanda understood that the ethical thing to do was to admit what had happened and accept her punishment fair and square – which is exactly what has happened.
The United States Anti-Doping Agency has suspended Amanda Kendall for three months (90 days) after admitting to using an asthma inhaler. The prescription grade drug, Breo Ellipta, has been used all over the world as ineffective treatment for asthma but it also contains a beta-2 androgenic agonist substance called vilanterol.
Vilanterol is a 100% banned substance according to the rules and regulations of the USA Swimming Doping Control, without any exceptions (aside from those athletes that pursue and receive a waiver). Those that have tested positive for using this substance are immediately given a ban from competition under the 100% zero-tolerance program that has been instituted by the USADA and the World Anti-Doping Agency (WADA).
On Valentine's Day in 2018, agents from the USADA contacted Amanda Kendall to take a drug testing sample while she was out of competition. A form was made available to her so that she could list all vitamins, medicines, and supplements she had been using during the past seven days – and Kendall disclosed the fact that she had been using the inhaler we mentioned above eight days before her test.
Her urine sample was collected and then tested at the USADA facility, and the test failed to detect any banned substances whatsoever. However, because Kendall admitted to using the banned substance on her disclosure – even though no substances were found upon testing – she was considered to have been using performance-enhancing drugs and was immediately suspended from competition.
Kendall obviously furnished records from her primary care physician, as well as from an urgent care clinic physician, to show that she had received the prescription grade inhaler in response to an acute situation of bronchitis and sinusitis that began on February 1.
She was prescribed the powerful medication for seven days, used the substance for seven days, and did so without recognizing that it contained a banned substance – which is why she didn't apply for any of the therapeutic use exemptions offered by the USADA.
Kendall learned of her suspension shortly after her tests were completed, and has accepted full responsibility for taking a medication that was on the banned substance list without first seeking a waiver. She has been open, forthright, and has taken full responsibility for her actions and is committed to not making this the same mistake moving forward.
Source: https://www.usada.org/amanda-kendall-accepts-doping-sanction/