By Admin – Steroidal.com
A large-scale underground lab (UGL) operation has been busted in Pennsylvania involving 13 arrests, some of which are probation and corrections officers.
Codenamed 'Operation Gym Candy' the Attorney General for Pennsylvania, Kathleen Kane, detailed in a press release more details of the steroid ring operating in Pennsylvania, and selling to other US states some as far as Hawaii.
Attorney General Kane said the investigation had been on going for seventeen-months and involved the Office of Attorney General's Bureau of Narcotics, as well as local and federal law enforcement agencies, in and around Northeast Pennsylvania.
Brian Laubach of Berwick, Paul Dougal and Richard Piccareta both of Plymouth, have been identified as the three main ringleaders of the UGL operation. These three are alleged to have imported raw hormone steroid powder from China and manufactured the powder into finished oral steroids and injectable steroid products.
This is done by mixing the raw powder with various solvents and carrier oils and put into vials for injection. Oral steroids are capped or made into tablets with capsulating machines or pill pressers and bottled. It is understood printing equipment, raw powder, beakers, officers also seized vials and syringes, after the raid.
Keith Kilgus of Danville, a fourth main operator, was alleged to have picked up the raw powder from postal addresses in the US, then delivering the raw steroid powder to the three manufacturers – Laubach, Dougal and Piccareta.
Attorney General Kane said the steroid ring operated out of Montour, Northumberland, Columbia, Luzerne and Lackawanna counties, whilst also shipping as far as Hawaii.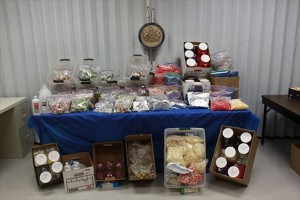 When ringleader Laubach's residence was raided, a massive 90,000 steroid pills were found, with 2,800 vials of injectable steroids, kilos of raw steroid hormone powder, gallons of carrier oils and solvents and $445,000 in cash. Laubach is said to have shipped up to 300 packages per week illegally to customers and making around $16,000. Brian Laubachs brother, Marc, was also charged for hiding some of the proceeds.
At Dougal's home investigators found 10,000 steroid tablets and 112 vials of anabolic steroids.
The seized items were said to be over $500,000 in street value.
Not only an illegal anabolic steroid ring, a prescription drug distribution network is also alleged to have been smashed. Sheree Senausky of Trucksville is said to have diverted 400 pills per week, mostly Vicodin or a combination of Vicodin, OxyContin and Percocet, from her employer and sold on the black market for $1,300 per week. Senausky is linked to Dougal and another of those charged – Nick Baloga of Scranton.
Investigators from the Bureau of Narcotics Investigations, said ring members would use the pain medications for themselves and also sold them on the black market for profit.
Prison guards, probation and corrections officers were some of those arrested as part of 'Operation Gym Candy.' Of the 13 charged five are current or former probation or correction officers: Marc Laubach (Columbia County Probation officer); Richard Piccarreta (former Montour County Prison officer); Nick Baloga (Lackawanna Prison guard); John Taffera (Luzerne County Correctional Facility guard); and Pete Fisher (Luzerne County Correctional Facility guard).
Attorney General Kane went on to state that it was troubling that these members of society, in trusted positions, were abusing their powers.
"It is particularly troubling that five of the people who participated in these rings have been entrusted by our citizens with overseeing parolees or guarding prisoners.
"They worked every day with individuals who are paying the price for breaking the law. It is shameful that they decided to break the law themselves," Kane explained.
The defendants will be arranged and put before Magisterial District Judge Richard Cronauer, and prosecuted by Deputy Attorney General William Abraham of the Attorney General's Drug Strike Force Section.
Those arrested are facing multiple charges relating to steroid possession, trafficking and conspiracy.
Those arrested are; Brian Laubach, 36, Marc Laubach, 36, Paul Dougal, 31, Richard Piccarreta, 49, Keith Kilgus, 40, Brian Clarke, 24, Matt Vilanoski, 25, John Koch, 24, Nick Baloga, 44, Kyle Goyne, 23, John Taffera, 39, Sheree Senausky, 29, Pete Fischer, 54 and Kristen Pietrzyk, 27.
Source:
Pahomepage.com.  (October 1st, 2014).  Several Under Arrest in "Operation Gym Candy". Retrieved from http://www.pahomepage.com/story/d/story/several-under-arrest-in-operation-gym-candy/32169/mVnJinetZk6Sg5iTmH_zMA