For four years, the operators of an underground lab known as Brinkmann Pharma UGL manufactured steroids and then sold them online. The steroids were sold domestically in the USA. Most underground labs don't stay open for such an extended time period without getting busted.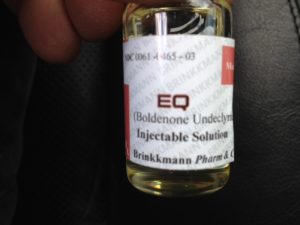 A lot of underground labs are out there and these labs tend to go come and go fairly quickly. They have short life cycles because police or federal law enforcement agencies get wind of the operations and then shut them down. These labs are known as UGLs for short. This stands for Underground Labs Steroids.
A judge named Rebecca Goodgame Ebinger convicted three of the operators of this underground lab to prison time on the 28th of July, 2017. The defendants who were convicted are Stanley Szeto, Jeffrey Lackas and Daniel Cruz-Bonilla.
Indicted via a grand jury, Stanley Szeto received a sentence of twenty-five months in prison, while Jeffrey Lackas was sentenced to forty-six months in prison and Daniel Cruz-Bonilla was sentenced to forty-one months in prison.
All defendants were found guilty of conspiracy to distribute anabolic steroids. Lackas, aged 31, is a resident of Bettendorf, Iowa. Szeto is 39 years of age and a resident of Iowa City, USA. Cruz-Bonilla is 30 years of age and a resident of Fontana, California.
In addition to being convicted of making and selling anabolic steroids, the trio were found guilty of distributing human growth hormones. HGH trafficking is a crime, although American doctors may legally prescribe Human Growth Hormone to patients who need it as a medical treatment.
As part of their sentences, each defendant was ordered to pay one hundred dollars to a fund for crime victims.
Steroids Were Imported From China
The operators of the underground lab brought steroid powder (raw form) via China and then transformed it into finished steroid products in a secret lab. Products produced by the lab included oral anabolics and injectables. They products were advertised for sale at a virtual storefront and they sold well from summer of 2011 to late winter of 2015.
A Special Agent named Quinn Auten led the investigation into Brinkkman Pharma UGL for the DEA (Drug Enforcement Administration. Auten testified in court and his testimony indicated that Lackas was the ringleader of the illegal steroid production (and in charge of the subsequent marketing and selling of the steroid products).
Lackas created and managed the lab, hired staff members and put up the website where the steroids were sold to American customers.
Lackas brought Szeto and Cruz-Bonilla into the operation. Szeto was brought in as a partner. During summer of 2016, DEA and local law enforcement worked together by getting search warrants and then seizing evidence. Many bottles of oral steroid pills and bottles of injectable steroid solutions were seized, as well as a fair bit of cash.
Szeto May Have Confessed
While some details of this big bust aren't known, it's possible that Szeto may have talked to police about the steroid ring because of pressure from law enforcement after being arrested for felony assault in spring of 2015.
The felony assault charges against Szeto may add up to five years to his steroid conspiracy sentence. He was charged with felony assault while working as a bar bouncer. He fractured the skull of one of the bar patrons during a confrontation.
Bust of UGLs are Quite Common
This latest UGL bust is one of many. Back in 2015, V Labs UGLs and Crox Gear were busted by law enforcement. The companies operated in the state of Connecticut. A corrupt police officer was found to be the ringleader of the steroids trafficking operation.